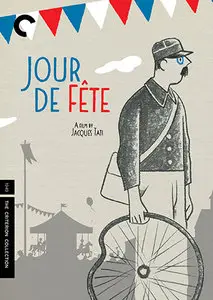 The Complete Jacques Tati - Blu-Ray 1. Jour de fête (1949) [The Criterion Collection]
Blu-Ray | BDMV | AVC, 1920x1080, ~22.0 Mbps | 1hr 27mn | 46,5 GB
French: LPCM Audio, 1 ch, 1152 kbps
Subtitles: English
Genre: Comedy
IMDB Rating: 7.4/10 (4.774 votes)
Director:
Jacques Tati
Writer:
Jacques Tati, Henri Marquet
Stars:
Jacques Tati, Guy Decomble, Paul Frankeur
Once a year the fair comes for one day to the little town 'Sainte-Severe-sur-Indre'. All inhabiters are scoffing at Francois, the postman, what he seems not to recognize. The rising of the flagstaff under his direction nearly leads into a catastrophy - but everybody tells him, how important his work is. Sneering up Francois continues in the evening of the festive day. Made drunk, some 'friends' persuade him to watch a short-movie in a tent. This film is a stunt-show, covered as 'The modern delivery-techniques of the US-post. Francois takes it serious, not recognizing being teased. Next day, after getting sober in a goods wagon, he reorganizes his own delivery-methods. He has not the equipment, as his ideals in the short-movie have, but using only his bicycle, he makes good, funny progresses.
Extras:
- Two alternate versions of Jour de fete, a partly colorized 1964 version (1:20:31) and the full-color 1995 rerelease version (1:20:15)
- "Jour de fete": In Search of the Lost Color, a 1988 documentary on the restoration of the film to Tati's original color vision
- A L'americaine (American Style) - visual essays on Jour de fete by Tati expert Stephane Goudet
- Jour de fete Trailer


DISC INFO:

Disc Title: JcTati1.JourDeFete.49.BR
Disc Size: 49 966 122 493 bytes
Protection: AACS
BD-Java: Yes
BDInfo: 0.5.8

PLAYLIST REPORT:

Name: 00001.MPLS
Length: 1:27:19.859 (h:m:s.ms)
Size: 16 706 617 344 bytes
Total Bitrate: 25,51 Mbps

VIDEO:

Codec Bitrate Description
––- –––- –––––-
MPEG-4 AVC Video 21994 kbps 1080p / 23,976 fps / 16:9 / High Profile 4.1

AUDIO:

Codec Language Bitrate Description
––- –––– –––- –––––-
LPCM Audio French 1152 kbps 1.0 / 48 kHz / 1152 kbps / 24-bit

SUBTITLES:

Codec Language Bitrate Description
––- –––– –––- –––––-
Presentation Graphics English 24,014 kbps


–––––––––––––––––––––––––––––––––––––––––––––––––––––-


DISC INFO:

Disc Title: JcTati1.JourDeFete.49.BR
Disc Size: 49 966 122 493 bytes
Protection: AACS
BD-Java: Yes
BDInfo: 0.5.8

PLAYLIST REPORT:

Name: 00803.MPLS
Length: 1:21:07.279 (h:m:s.ms)
Size: 9 754 736 640 bytes
Total Bitrate: 16,03 Mbps

VIDEO:

Codec Bitrate Description
––- –––- –––––-
MPEG-4 AVC Video 15000 kbps 1080p / 23,976 fps / 16:9 / High Profile 4.1

AUDIO:

Codec Language Bitrate Description
––- –––– –––- –––––-
Dolby Digital Audio French 192 kbps 1.0 / 48 kHz / 192 kbps

SUBTITLES:

Codec Language Bitrate Description
––- –––– –––- –––––-
Presentation Graphics English 63,245 kbps

–––––––––––––––––––––––––––––––––––––––––––––––––––––––-


All thanks to the original uploader