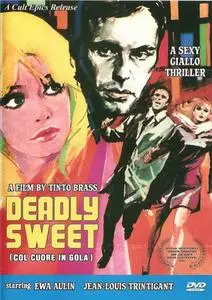 I Am What I Am (1967)
DVDRip | MKV | 712x460 | x264 @ 2000 Kbps | 103 min | 1,73 Gb
Audio: Italiano AC3 2.0 @ 192 Kbps + English Director's Commentary
Subs: English, Русский
Genre: Mystery, Thriller
Director:
Tinto Brass
Writers:
Tinto Brass, Sergio Donati (novel)
Stars:
Jean-Louis Trintignant, Ewa Aulin, Roberto Bisacco
Bernard meets Jane in a Night Club, in London, and he likes her. Her father was killed in a car accident, but Jane thinks he has been killed because he was blackmailed for a picture of his second wife, Jane's mother in law. In the same Night Club Bernard finds the blackmailer corpse and Jane near him, but he believes she is innocent. So Bernard and Jane run away followed by a dwarf, the blackmailer's men, who believe Bernard killed their boss and of course, the Police. They believe that Jerome, Jane's brother, can help them to solve the case. But Jane doesn't know where he is, or so she says. Corpse after corpse, Bernard will find out the truth. But will the truth help him?
A rather unusual agenda from tinto brass who obviously found later his niche in "t&a" movies. Col cuore in Gola is a psychedelic, pop art giallo that can just come from the great era of the late 60´s/70´s. Starting from the nice credits and music you immediately like this film and this is just the beginning! Trintignant founds in a nightclub a corpse beside the lovely aulin who just says "i wasnt it" Convinced that she is innocent he wants to help her and want to find out the murderer, Aulins brother should solve this case and both are searching for him. Though not quite without problems..a dwarf in raincoat is following them in companion with some gangsters who kidnap Aulin. Jean is now searching for aulin, aulins brother and (of course) the murderer. The Story itself is not that convincing (rather unimportant) but what here is really of interest is the unconvential style of brass : splitscreen(even tripple split screens!) some scenes in black and dark yellow filter and more.., and in the "middle" of course the presence of two very convincing leads: cool Trintignant and hot Ewa Aulin. (somehow priceless here in white fishnet stockings) the result is a quite good giallo with (obviously) strong references to pop art. In the same year Aulin and Trintignant appeared in the avantgarde giallo masterpiece "Death laid an egg", Col Cuore in Gola is not great as Giulio Questis film but is definitely entertaining.
(click to enlarge)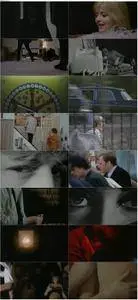 More in My Blog