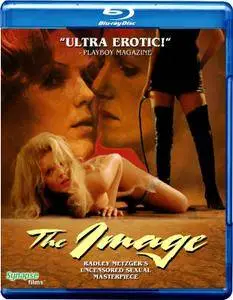 The Image (1975)
BDRip 720p | MKV | 1280 x 720 | x264 @ 2560 Kbps | 1h 31mn | 1,91 Gb
Audio: English AC3 5.1 @ 448 Kbps | Subtitles: English (embedded)
Genre: Drama, Erotic | Director: Radley Metzger
Also known as The Punishment of Anne, The Image takes a close look at the sadomasochistic relationship between a young girl and an older woman. Based on author Jean de Berg's novel of the same name, this film examines the darker side of sexuality.
THE IMAGE is a disturbing, erotic, scary, elegant movie that probably only Radley Metzger could have made. Most directors of 'erotica' concentrate on gynecological close-ups to the exclusion of all else; Metzger's hallmark has always been to tell the story and explain the characters by relying as much on the actors' eyes as on the dialogue. The S&M scene is as alien to me as peanut-butter-and-pickle sandwiches (which I am also told some enjoy), but in THE IMAGE I can see the gamesmanship, the role-playing and the unspoken psychological leveraging that makes it all so compellingly complex. Would I show this film to Grandma? Uh-uh. But then, that's just MY grandma, who knows, yours may have a side you never suspected. This film is hot, fascinating, and, in this gorgeous and UNCUT (thank you, thank you!) video transfer, stunningly beautiful as well.
(Enlargeable)
6765021