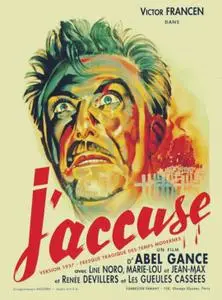 I Accuse (1938)
DVDRip | MKV | 540x480 | x264 @ 1263 Kbps | 119 min | 1,24 Gb
Audio: Français AC3 2.0 @ 192 Kbps | Subs: English (embedded in MKV)
Genre: Drama, Horror, Sci-Fi
Director
: Abel Gance
Writers
: Abel Gance (scenario & adaptation), Steve Passeur (adaptation)
Stars
: Victor Francen, Line Noro, Sylvie Gance
After serving in the trenches of World War I, Jean Diaz recoils with such horror that he renounces love and personal pleasure to immerse himself in scientific research, seeking a machine to prevent war. He thinks he has succeeded, but the government subverts his discovery, and Europe slides with seeming inevitability toward World War II. In desperation, Diaz summons the ghosts of the war dead from the graves and fields of France to give silent, accusing protest.
Abel Gance, undoubtedly one of the greatest film-makers ever, made this extraordinary film as he saw Europe rushing toward World War 2. It is a remake of a film he made when he was in the trenches of World War 1. At its core is the magnificent performance of Victor Francen as the only survivor of a World War 1 patrol who is determined to prevent war ever happening again. With photography and amazing mis en scene, Gance evokes the waste of war and the terrible effect it has on its survivors. The climax involves Francen conjuring the dead of World War 1 to stop World War 2. This is stunningly shot and extremely powerful.

The only faults this film has is the over reliance on stock footage (I assume because of budgetary problems), and a romantic sub-plot that doesn't quite work. But this is a true work of art - highly political and visionary, and fascinating historically. What a shame humanity didn't listen in 1938!
(click to enlarge)
More in My Blog