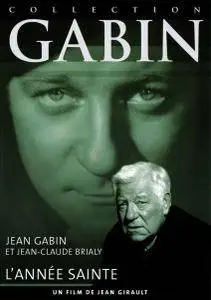 L'Année sainte / Holy Year (1976)
French | DVDRip | AVI | 706x434 | XviD @ 1500 kb/s | 1.04 GB
Audio: MP3 @ 128 kb/s | 2 channels | 01:30:43 minutes | Subs: English (hardcoded)
Genre: Comedy
Max, a master thief, is spending some time behind bars, having been captured by a determined and crafty police officer. He has hidden a sizable amount of gold in Italy and is patiently waiting to get out so he can retrieve it. His prison companion wants to get out now and get the gold. So they escape, dress as priests and fly off for Italy. Unfortunately, their plane is hijacked, but the terrorists are no match for Max who gets the better of them, but the delay in getting to Rome allows the police time to track him down. What will he do now?