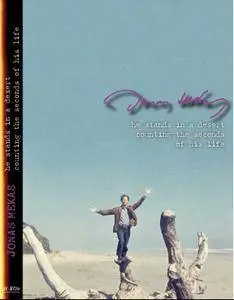 He Stands in the Desert Counting the Seconds of His Life (1986)
DVDRip | MKV | 720 x 352 | x264 @ ~1700 Kbps | 149 min | 2,00 Gb
Audio: English AC3 2.0 @ 192 Kbps | Subs: French (embedded in MKV)
Genre: Art-house, Avant-garde
The film consists of 124 brief sketches, each half-a-minute to about two minutes long. Portraits of people I have spent time with, places, seasons of the year, weather (storms, snow, blizzards etc…) many of my film-maker friends- streets and parks of New-York- brief escape in nature, out of town- nothing spectacular, unimportant celebrations of life that has gone, by now, and remains only as a record in these personal, brief sketches.
The great achievement of American avant-garde film has been the interiorization of the cinema image: the creation of a body of films whose techniques are geared not toward using the film image for objective presentation of external events but for the exploration of the varieties of the private personas and inner visions of their makers. Jonas Mekas's film, He Stands in a Desert Counting the Seconds of His Life, is one of the most intense, beautiful, and moving examples of that tradition.

Jonas Mekas is perhaps best known as a major advocate of American avant-garde film. Through reviews and exhibition activities over several decades, he brought the achievements of this extraordinary filmmaking movement to many who would not have encountered it otherwise. But he is also a filmmaker himself, and is in fact one of the finest artists in the movement he championed.




While we do see Mekas himself and his family, the film's focus is on many other, often more public figures. There are a number of "celebrities," from John and Yoko to Andy Warhol to Jackie O. and various Kennedy children. There is also much footage of persons well known to followers of independent film: Peter Kubelka, Hollis Frampton, Ken Jacobs, P. Adams Sitney, Richard Foreman. There are also many other Mekas friends who are not well known.

For the past 25 years, Mekas has been releasing a series of diary films, each dealing with different periods of his life, which together will constitute a single, massive cinema autobiography. He Stands in a Desert is the first of three films utilizing footage shot over the last 15 years; Mekas sees this film as the one most concerned with material outside his personal life.




The film begins with the title "He stands in a desert counting the seconds of his life"; it ends with the title repeated in the past tense: "He stood in the desert.." This is in effect a double past tense, achievable only at the film's end: the filmmaker remembering himself remembering the past. For a film of memories, He Stands in a Desert is amazingly devoid of easy sentimentality, perhaps because Mekas has chosen to remember his past not in the long years recalled by an aching, ill-defined nostalgia but in the intense seconds of ecstasy.




On the sound track of an earlier diary film, Paradise Not yet Regained (1980), Mekas told a wonderful, personal parable, his own version of the story of Adam and Eve. After they were driven out of Eden, while the pair rested in the deep shadow of a rock, Eve looked back and saw the glow of paradise exploding into little fragments. The pieces fell to earth in a heavy rain, covering the ground and the sleeping Adam. Eve never told Adam of this. For the filmmaker, paradise still exists, in those fragments scattered all over the world. Mekas himself emigrated to the U.S. from Lithuania after World War II and some time in displaced persons' camp, and in all his work he has retained some of the identity of a "displaced person." The idyllic unities of childhood, or of some real or imagined past social order in which work, culture and family life existed as an integrated and interrelated whole, are not possible in our era, wrenched as it is by war, tragedy, and the continual changes in technology that account, in part, for the ever-quickening pace of life. But a paradise can be constructed, via the making of art, or via the processes of imaginative seeing and memory, in the mind of each of us, each in our own way, within our desert, if not out of the grand arcs of our lives then out of our instants, our "seconds" of time. Such a paradise cannot exist as a continuous physical landscape, Eden having been lost.




The 19th-century American landscape painters such as Frederic Church and Albert Bierstadt could still envision the possibility of a physical Eden in the American wilderness even while depicting the steady encroachment of man. The space of our own age is broken, discontinuous, man-made, and, as such, a product of the human mind. Mekas, and in differing ways many of his filmmaker-colleagues, have given new life to the Edenic theme in American art by finding a vision of Eden appropriate to our ever-new environment.

More in My Blog