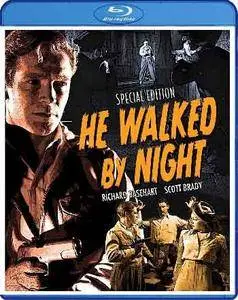 He Walked by Night (1948) + Extras
BDRip 720p | 1h 18mn | 1280x720 | MKV AVC@2560Kbps 23.98fps | 1.76 GiB
English AC3@448Kbps 2CH 48KHz | English (Commentary) AC3@192Kbps 2CH 48KHz
Genre: Crime, Film-Noir, Thriller | Subtitles: English
In the Post-World War II, in Los Angeles, a criminal shots and kills a police officer in the middle of the night. Without any leads, the chief of the LAPD assigns Sgt. Chuck Jones and Sgt. Marty Brennan to investigate the murder and apprehend the culprits. When the dealer of electronics devices, Paul Reeves, is caught selling a stolen projector, the police identifies the criminal, and connects him to other unsolved robberies. Using the witnesses of his heists, they draw their face, but the true identity of the smart and intelligent criminal is not disclosed. The perseverance of Sgt. Marty Brennan in his investigation gives a clue where he might live.
Directors
: Alfred L. Werker (as Alfred Werker), Anthony Mann (uncredited)
Writers
: Crane Wilbur (story), Crane Wilbur (screenplay)
Stars
: Richard Basehart, Scott Brady, Roy Roberts
Country
: USA
Also Known As
: The L.A. Investigator
Ratings
: 7.2/10 from 3,613 users1 (win)
Extras
: FEATURETTE-Below the Surface; He Walked by Night (232 MB)
imdb iNFO
Screenshots