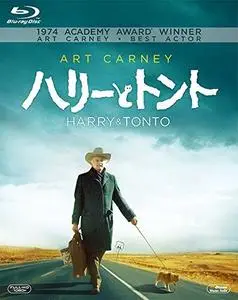 Harry and Tonto (1974)
BDRip 720p | MKV | 1280 x 720 | x264 @ 2560 Kbps | 1h 55mn | 2,35 Gb
Audio: English AC3 1.0 @ 160 Kbps + Commentary track | Subtitles: English
Genre: Adventure, Comedy, Drama | Director: Paul Mazursky
Harry Coombes (Art Carney) is a man in his seventies who is evicted from his Manhattan apartment when the building is set to be demolished. After staying briefly with his son Burt (Phil Bruns), Harry decides to travel across the country, accompanied by his cat, Tonto, to visit his other grown children. However, his visits to a former love (Geraldine Fitzgerald), his daughter, Shirley (Ellen Burstyn) in Chicago, and his youngest son, Eddie (Larry Hagman), in Los Angeles, defy his expectations.
Art Carney was a quiet, quirky genius and this film is a lasting testament to his talent.

It's a story about how an -average- man (actually not average at all, as we come to find out) lives a life of dignity and confronts the chaos of modern existence–including that most devastating of inevitabilities, mortality and, particularly, old age .

Besides Carney, watch for superb ensemble acting from Ellen Burstyn, Larry Hagman, the inimitable Chief Dan George, Arthur Hunnicutt, and a host of great character actors from the 70's.

Unlike so many contemporary scripts from the late 60's and early 70's, the cultural references seem interesting and historical and not dated, probably because–like everything else in this film–they are treated with respect and a sense of mercy.

If this film had been made by a French director in 1974, it would be heralded as a major classic. Oh, well.

Watch it. Savor it. This is really something special.
(Enlargeable)
Audio commentary
by director Paul Mazursky