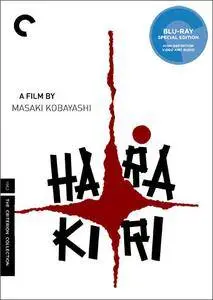 Seppuku / Harakiri (1962)[Criterion Collection, Spine #302]
Blu-Ray | BDMV | AVC, 1920x1080, ~35.0 Mbps | 2hr 13mn | 44,0 GB
Japanese: LPCM Audio, 1 ch, 1152 kbps
Subtitles: English
Genre: Action, Drama, History
IMDB Rating: 8.7/10 (21.533 votes)
Criterion.com
Director:
Masaki Kobayashi
Writers:
Shinobu Hashimoto (screenplay), Yasuhiko Takiguchi (novel)
Stars:
Tatsuya Nakadai, Akira Ishihama, Shima Iwashita
Peace in 17th-century Japan causes the Shogunate's breakup of warrior clans, throwing thousands of samurai out of work and into poverty. An honorable end to such fate under the samurai code is ritual suicide, or hara-kiri (self-inflicted disembowelment). An elder warrior, Hanshiro Tsugumo (Tatsuya Nakadai) seeks admittance to the house of a feudal lord to commit the act. There, he learns of the fate of his son-in-law, a young samurai who sought work at the house but was instead barbarically forced to commit traditional hara-kiri in an excruciating manner with a dull bamboo blade. In flashbacks the samurai tells the tragic story of his son-in-law, and how he was forced to sell his real sword to support his sick wife and child. Tsugumo thus sets in motion a tense showdown of revenge against the house.
Bonus:
- Video introduction by Japanese-film historian Donald Richie
- Excerpt from a rare Directors Guild of Japan video interview with director Masaki Kobayashi, moderated by filmmaker Masahiro Shinoda
- Video interviews with star Tatsuya Nakadai and screenwriter Shinobu Hashimoto
- Original theatrical trailer
All thanks to the original uploader


DISC INFO:

Disc Title: Harakiri.62.Cr.BR
Disc Size: 47 333 123 994 bytes
Protection: AACS
BD-Java: Yes
BDInfo: 0.5.8

PLAYLIST REPORT:

Name: 00001.MPLS
Length: 2:13:01.556 (h:m:s.ms)
Size: 38 996 385 792 bytes
Total Bitrate: 39,09 Mbps

VIDEO:

Codec Bitrate Description
––- –––- –––––-
MPEG-4 AVC Video 34996 kbps 1080p / 23,976 fps / 16:9 / High Profile 4.1

AUDIO:

Codec Language Bitrate Description
––- –––– –––- –––––-
LPCM Audio Japanese 1152 kbps 1.0 / 48 kHz / 1152 kbps / 24-bit

SUBTITLES:

Codec Language Bitrate Description
––- –––– –––- –––––-
Presentation Graphics English 35,017 kbps

FILES:

Name Time In Length Size Total Bitrate
–– –––- ––– –– ––––––-
00274.M2TS 0:00:00.000 2:13:01.556 38 996 385 792 39 086

–––––––––––––––––––––––––––––––––––––––––––––––––––––––-