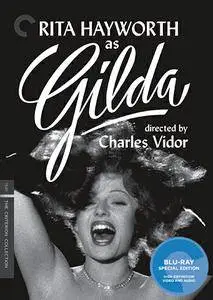 Gilda / Гильда (1946)[Criterion Collection, Spine #795]
Blu-Ray | BDMV | AVC, 1920x1080, ~34.9 Mbps | 1hr 50mn | 43,1 GB
English: LPCM Audio, 1 ch, 1152 kbps \ AC3, 1 ch, 192 kbps
Subtitles: English
Genre: Drama, Film-Noir, Romance
IMDB Rating: 7.8/10 (19.281 votes)
Criterion.com
Director:
Charles Vidor
Writers:
E.A. Ellington (story), Jo Eisinger (adaptation)
Stars:
Rita Hayworth, Glenn Ford, George Macready
Just arrived in Argentina, small-time crooked gambler Johnny Farrell is saved from a gunman by sinister Ballin Mundson, who later makes Johnny his right-hand man. But their friendship based on mutual lack of scruples is strained when Mundson returns from a trip with a wife: the supremely desirable Gilda, whom Johnny once knew and learned to hate. The relationship of Johnny and Gilda, a battlefield of warring emotions, becomes even more bizarre after Mundson disappears…
Extras:
- Audio commentary, recorded in 2010
- Martin Scorsese and Baz Luhrmann
- Hollywood and the Stars: "The Odyssey of Rita Hayworth"
- Eddie Muller
- Trailer


DISC INFO:

Disc Title: Gilda.46.BR.Cr
Disc Size: 46 361 321 468 bytes
Protection: AACS
BD-Java: Yes
BDInfo: 0.5.8

PLAYLIST REPORT:

Name: 00001.MPLS
Length: 1:50:23.658 (h:m:s.ms)
Size: 32 526 557 184 bytes
Total Bitrate: 39,29 Mbps

VIDEO:

Codec Bitrate Description
––- –––- –––––-
MPEG-4 AVC Video 34933 kbps 1080p / 23,976 fps / 16:9 / High Profile 4.1

AUDIO:

Codec Language Bitrate Description
––- –––– –––- –––––-
LPCM Audio English 1152 kbps 1.0 / 48 kHz / 1152 kbps / 24-bit
Dolby Digital Audio English 192 kbps 1.0 / 48 kHz / 192 kbps

SUBTITLES:

Codec Language Bitrate Description
––- –––– –––- –––––-
Presentation Graphics English 58,263 kbps

––––––––––––––––––––––––––––––-