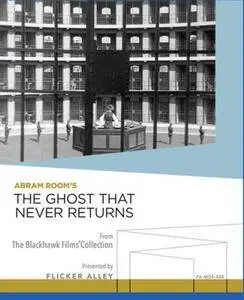 Prividenie, kotoroe ne vozvrashchaetsya / The Ghost That Never Returns / Привидение, которое не возвращается (1930)
Blu-Ray | BDMV | AVC, 1920x1080, ~20.0 Mbps | 1hr 33mn | 15,1 GB
Score: AC3, 2 ch, 192 kbps
Subtitles: English intertitles
Genre: Drama, Silent, Musical
IMDB Rating: 6.8/10 (145 votes)
Country:
Soviet Union, Россия
Year:
1929 (1930)
Director:
Abram Room
Writers:
Henri Barbusse (novel), Valentin Turkin
Stars:
Boris Ferdinandov, A. Filippov, Karl Gurnyak
'The Ghost That Never Returns' is an outstanding Soviet film by Abram Room, the director of Bed and Sofa. Released to little notice in 1930, it joins other very late silents to show the screen still developing high eloquence after the first talkies stopped silent cinema dead in its tracks.
This is the original silent version with new English titles and a new musical setting by Rodney Sauer (the film was re-released in 1933 in a shortened version with dubbed dialogue and music).
Extras:
- Pacific 231 (1931) - one of the first experimental Soviet sound films


DISC INFO:

Disc Title: GhostThatNeverReturns.30.BR
Disc Size: 16 248 166 762 bytes
Protection: AACS
BD-Java: No
BDInfo: 0.5.8

PLAYLIST REPORT:

Name: 00002.MPLS
Length: 1:33:52.001 (h:m:s.ms)
Size: 14 946 729 984 bytes
Total Bitrate: 21,23 Mbps

VIDEO:

Codec Bitrate Description
––- –––- –––––-
MPEG-4 AVC Video 20046 kbps 1080p / 23,976 fps / 16:9 / High Profile 4.1

AUDIO:

Codec Language Bitrate Description
––- –––– –––- –––––-
Dolby Digital Audio English 192 kbps 2.0 / 48 kHz / 192 kbps

FILES:

Name Time In Length Size Total Bitrate
–– –––- ––– –– ––––––-
00002.M2TS 0:00:00.000 1:33:52.001 14 946 729 984 21 231


––––––––––––––––––––––––––––––––––––––-


Thanks to original uploader