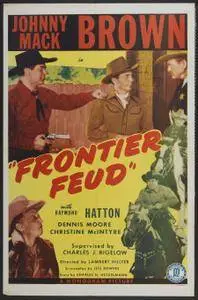 Frontier Feud (1945)
English | DVDRip | AVI | 640x480 | XviD @ 1844 kb/s | 789 MB
Audio: AC-3 @ 192 kb/s | 2 channels | 00:54:00 minutes
Genre: Western
Traveling incognito to a once-peaceful valley now torn by a murderous conflict between two ranchers, U.S. Marshals Nevada Jack McKenzie and Sandy Hopkins find the dead body of Zane Jenkins, killed by gunman Slade Burnette. Don Graham, part owner of one ranch with the innocent Bill Corey, has started the war with the intent of gaining control of the valley. Corey's daughter Blanche is in love with the owner of the other ranch, Joe, who is suspected of being behind the troubles. Nevada claims to be the brother of the slain Jenkins and is deputized by Sheriff Clancy. Both ranchers warn Nevada to keep out of their business and back up their warnings with violence. Sandy gets a job with Joe, and is able to help Nevada get evidence that Graham is being assisted by town banker Chamers in the plot to take over both ranches.