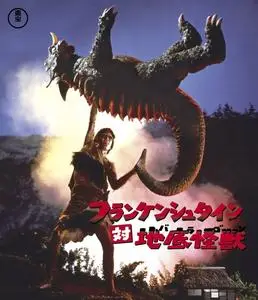 Frankenstein Conquers the World (1965)
BDRip 720p | MKV | 1280 x 720 | x264 @ 2560 Kbps | 1h 33mn | 1,91 Gb
Audio: Japanese (日本語) AC3 2.0 @ 192 Kbps + Commentary track | Subs: English
Genre: Horror, Sci-Fi | Director: Ishirô Honda
During WWII, a human heart taken from a certain lab in Europe (Dr. Frankenstein's) is kept in a Japanese lab, when it gets exposed to the radiation of the bombing of Hiroshima. The heart grows in size, mutates and sprouts appendages, and eventually grows into a complete body and escapes. Later, a feral boy with a certain physical deformity (a large head with a flat top) is captured by scientists who refer to the boy as Frankenstein. The creature grows to the height of 20 feet, escapes again, fights police and army, and is practically indestructible. Later, a reptilian monster goes on a rampage. Eventually the Frankenstein creature and the reptile face off in a terrible battle.
This film is also known as:
- Frankenstein Meets the Giant Devil Fish
- Frankenstein and the Giant Lizard
- Frankenstein vs. the Giant Devil Fish
- Frankenstein vs. the Subterranean Monster
- Furankensuten to Baragon
(Enlargeable)

Audio Commentary
with director of special effects photography Teisho Arikawa (in Japanese with optional English subtitles)