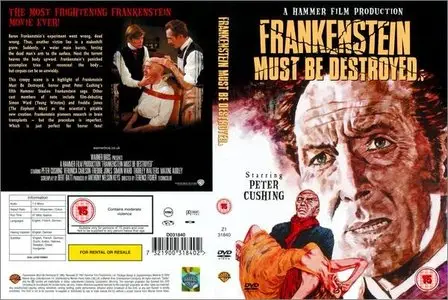 Frankenstein Must Be Destroyed (1969)
DVD5 | VIDEO_TS | PAL 16:9 | Cover + DVD Scan | 01:36:38 | 4,03 Gb
Audio: #1 English, #2 French, #3 German - AC3 1.0 @ 192 Kbps (each track)
Subs: English (+SDH), French, German, Dutch, Arabic, Hebrew, Swedish, Greek, Hungarian
Genre: Horror, Sci-fi, Classics
Director:
Terence Fisher
Stars:
Peter Cushing, Veronica Carlson, Freddie Jones
Baron Frankenstein is once again working with illegal medical experiments. Together with a young doctor, Karl and his fiancée Anna, they kidnap the mentally sick Dr. Brandt, to perform the first brain transplantation ever.
Right from its stylish and violently kinetic opening, Frankenstein Must Be Destroyed establishes itself as one of the finest of the seven entries in Hammer's Frankenstein cycle. The Frankenstein films always had a starkness and savagery to them that in a way surpassed the Christopher Lee Dracula productions, thanks in no small part to Peter Cushing's chilling turns as the eponymous, gorily obsessive and brutally clinical mad doctor. Cushing, a first rate actor who was capable of redeeming the most errant piece of nonsense with his consummate professionalism and skill, only shined that much brighter when he was part of a production that supported and matched his own level of commitment. That the film displays exactly this kind of dedication to quality may not be surprising given that Terence Fisher, Hammer's resident master craftsman, is on hand to direct.




Cushing's coldly articulate and seemingly alien Baron Frankenstein is matched perfectly with the film's minimalist (for Hammer) set design, depicting as it does an England struggling under the environmental weight of lunatic asylums and abandoned estates. This sense of a crumbling landscape is perversely reflected in Frankenstein's drive to experiment and lacerate bodies in the name of a modernist religion of progress. Adding to the film's appeal is a compellingly exhausted and desperate performance by Freddie Jones as Frankenstein's all too human monster. There is a swift yet sophisticated precision to Frankenstein Must Be Destroyed, a concentrated ferocity and subtle unification of narrative, image and theme that is indicative of the very height of Cushing and Fisher's working relationship.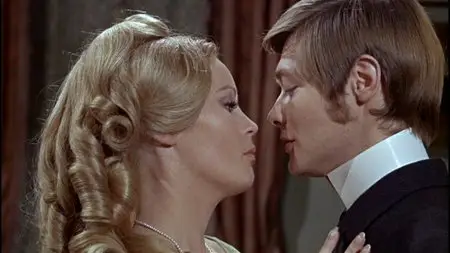 Baron Frankenstein (Peter Cushing), under an assumed name, blackmails a young couple (Simon Ward and Veronica Carlson) into assisting him in his nefarious experiments in brain transplantation…




Frankenstein Must Be Destroyed was often cited by its director, Terence Fisher, as his favorite among his films and it is easy to see why. Though panned and ignored on its original release, it has since gone on to become one of Hammer's most respected horror offerings; Martin Scorsese even introduced a special screening of it at a Hammer retrospective at the Museum of Modern Art in the 1980s.




Brutal, nihilistic and expertly paced, the film tries its audience by making the Baron (heretofore, overall, a sympathetic figure) into a cold-blooded sadist who will stop at nothing (be it rape or murder) to accomplish his goals. The young couple played by Simon Ward (in his film debut) and Veronica Carlson are blackmailed because of their involvement in illegal drugs. The police, represented by brash Thorley Walters (a long way from his cuddly role in Frankenstein Created Woman), are thickheaded and arrogant. Only the "monster" (a brain transplant victim played by Freddie Jones) comes across as pure in this sordid milieu. Fisher is at the top of his game here, employing his usual simple but effective directorial style and coaxing fine performances from the entire cast. Individual sequences (notably an extended stalking scene at the beginning) rival the best of Hitchcock and show Fisher's flair for suspense had not diminished with old age (this was his next to last film, before being more or less forced to retire after 1973's Frankenstein and the Monster from Hell).




As the Baron, Peter Cushing could have easily walked through the role by this point, but he invests all his talent to deliver what is possibly his finest performance. Normally a likable grandfatherly figure on screen, here he is cold, callous and ruthless. The contrast between his charming demeanor ("Anna, get me some coffee, please") and his callous attitude makes for a fascinating characterization, best illustrated, perhaps, when he calms the fears of a frightened woman (the wife of the man whose brain he's used for his latest experiment), sending her off into the night, only to close the door and turn to the camera and order, "Pack! We're leaving!" Nonetheless, it's hard not to admire the good Baron's tenacity or to cheer him on when he tears apart a group of stuffed shirts. ("I'm afraid that stupidity always brings out the worst in me.")




The remainder of the cast is also first class, with Freddie Jones being perhaps the most pitiable "monster" since Karloff's. Fisher was always proud of pointing out that Jones was one of the few actors he ever personally cast, and the normally eccentric character actor (The Satanic Rites of Dracula, The Man Who Haunted Himself) justifies that pride in a performance that can truly be called heartbreaking; witness the scene in which he confronts his wife (appalled by the situation, as it's her husband's brain in a different, scarred body), pathetically hiding himself behind a screen so as not to frighten her.




On the technical front, the film benefits from excellent production values: Bernard Robinson's sets are believably "lived in" but never look cramped or at all cheap, while Arthur Grant provides some lovely lighting that even piles on a bit of colored gels from time to time (dig that skeleton bathed in green in the Baron's lab). James Bernard's score is one of his most underrated accomplishments, ranging from dynamic fury to tender cues that underline the tragedy of the scenario. A bit more downbeat than the average Hammer horror film, Frankenstein Must Be Destroyed is possibly their best exercise in Gothic horror.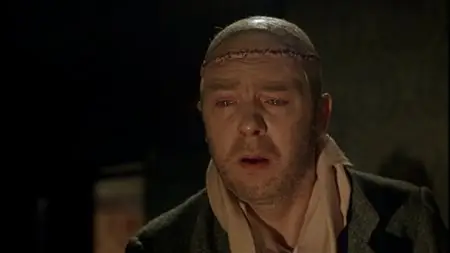 Special Features: Theatrical trailer
All Credits goes to Original uploader.