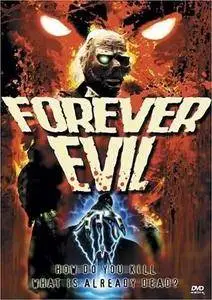 Forever Evil (1987)
English | DVDRip | AVI | 464x352 | XviD @ 687 kb/s | 897 MB
Audio: MP3 @ 172 kb/s 2 ch + commentary | 01:59:35 minutes
Genre: Horror
One night at a cabin retreat, Marc Denning became the sole survivor of a bloody massacre which claimed the lives of his lover, his brother, and three friends. Shortly after the murders, he begins to look for answers that will explain the slaughter, and soon he uncovers a plot by a mysterious and supernatural cult which for many years has been responsible for a series of periodic ritual murders. Their aim is to bring about the return of Yog Kothag, an ancient god who was so evil that he was banished from Earth centuries ago.