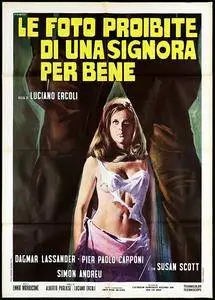 Forbidden Photos of a Lady Above Suspicion (1970)
DVDRip | MKV | 720x430 | x264 @ 1654 Kbps | 91 min | 1,29 Gb
Audio: Italiano and Deutsch - each track AC3 2.0 @ 160 Kbps
Subs (embedded in MKV): English, Deutsch
Genre: Mystery, Thriller
Director:
Luciano Ercoli
Writers:
Ernesto Gastaldi (screenplay), Ernesto Gastaldi (story)
Stars:
Dagmar Lassander, Pier Paolo Capponi, Simón Andreu
A triangle of friendship, love, sex, and, perhaps, murder. Minou is newly married to Peter, a businessman in debt as he works to bring a new product to market. They met through Dominique, sexually voracious, Minou's best friend, and Peter's former (and possibly still) lover. A stranger accosts Minou one night on the beach while Peter is away. He tells her that Peter has murdered a business associate and blackmails her into sleeping with him. He compounds the blackmail with photos taken of their tryst. To Minou's surprise, this same stranger is in a pornographic photo Dominique has imported from Denmark. Is this all a game, and if so, who's behind it?
Minou is a breathtakingly beautiful woman, but nonetheless she feels quite neglected by her overworked husband Peter. One night, however, while Minou is out for a stroll, she is attacked by a stranger who is confronting her with an unexpected and shocking revelation: Peter allegedly seems to have committed a cold-hearted murder! This is the beginning of tough times for Minou because the stranger blackmails her into fulfilling his every demand, driving the desperate woman to her very limits. But his perverted game is only the prelude to what turns into a torturous, relentless descent into madness…With his feature debut, Luciano Ercoli created a stunningly photographed psycho thriller whose more and more disturbing plot renders the audience almost as helpless as its elegant protagonist Dagmar Lassander – and this lea- ding lady of 70s Italo cinema has never looked better than here! Forbidden Photos of a Lady Above Suspicion, with its exquisite sensual assault of primary colors and spiced with one of the most beautiful scores master composer Ennio Morricone has ever created, is a feast for eyes and ears… and, above all, a gorgeous giallo to die for!
(click to enlarge)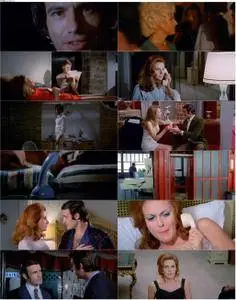 More in My Blog