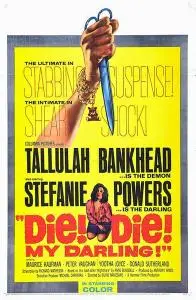 Fanatic / Die! Die! My Darling! (1965)
English or German (2 audio tracks) | DVDRip | AVI | 656x352 | XviD @ 1036 kb/s | 799 MB
Audio: MP3 @ 80.0 kb/s | 1 channel | 01:32:18 minutes
Genre: Horror, Thriller
Patricia Carroll arrives in London to get married with her fiancé Alan Glentower. However, the stubborn Pat decides to pay a visit in the country to Mrs. Trefoile, the mother of her former fiancé Stephen, who died in a car accident. Once there, the religious fanatic Mrs. Trefoile insists to Pat to stay overnight to go to the mass on the next morning. After going to the church, the naive Pat tells Mrs. Trefoile that she was not going to marry Stephen, triggering her insanity. Mrs. Trefoile abducts Pat to purify her sins and make her pure for her beloved son.