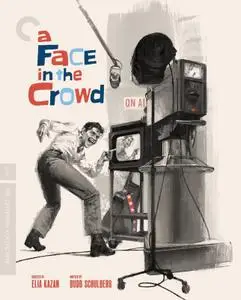 A Face in the Crowd (1957) + Extras
BDRip 720p | MKV | 1280 x 720 | x264 @ 2560 Kbps | 2h 6mn | 2,40 Gb + 983 Mb
Audio: English AC3 1.0 @ 160 Kbps | Subtitles: English (embedded)
Genre: Drama | Director: Elia Kazan
A Face in the Crowd chronicles the rise and fall of Larry "Lonesome" Rhodes (Andy Griffith), a boisterous entertainer discovered in an Arkansas drunk tank by Marcia Jeffries (Patricia Neal), a local radio producer with ambitions of her own. His charisma and cunning soon shoot him to the heights of television stardom and political demagoguery, forcing Marcia to grapple with the manipulative, reactionary monster she has created. Directed by Elia Kazan from a screenplay by Budd Schulberg, this incisive satire features an extraordinary debut screen performance by Griffith, who brandishes his charm in an uncharacteristically sinister role. Though the film was a flop on its initial release, subsequent generations have marveled at its eerily prescient diagnosis of the toxic intimacy between media and politics in American life.
(Enlargeable)

Extras:
–
Facing the Past
- this archival documentary focuses on Elia Kazan's political activities and specifically his association with the Communist Party, his troubles after his testimony before HUAC, and the evolution of his career. Also, there are plenty of observations about A Face in the Dark and nature of the dilemmas that its main protagonist faces. The documentary uses clips from archival interviews with actors Andy Griffith, Patricia Neal, and Anthony Franciosa, screenwriter Budd Schulberg, and film scholars Leo Brady and Jeff Young (30 min).
–
Ron Briley
- in this new video program, Ron Briley, author of The Ambivalent Legacy of Elia Kazan: The Politics of the Post-HUAC Films, discusses Elia Kazan's social and political background, the dramatic impact that his testimony before HUAC had on his career, and some of the key themes and political overtones in A Face in the Crowd. The program was produced exclusively for Criterion in 2018 (21 min).