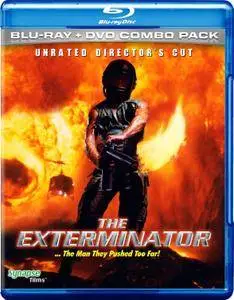 The Exterminator (1980)
BDRip 720p | MKV | 1280 x 720 | x264 @ 2560 Kbps | 1h 42mn | 2,10 Gb
Audio: English AC3 2.0 @ 192 Kbps + Commentary track | Subtitles: None
Genre: Action, Crime, Thriller | Director: James Glickenhaus
When his friend is paralyzed in a gang attack, Vietnam veteran John Eastland decides to wreak revenge upon anyone who crosses his path. He becomes a hero to the public with his no-nonsense approach to law enforcement, but the police believe him to be an unstable psychopath capable of untold murder and mayhem.
"The Exterminator" is a one hell of a vigilante thriller. This legendary flick obviously influenced by Micheal Winner's "Death Wish" has Robert Ginty as a Vietnam vet, whose friend is badly injured by street gangs. James Glickenhaus ("Suicide Cult","The Soldier") creates an ultra gritty atmosphere of wonderfully seedy New York. "The Exterminator" is extremely brutal: the double murder in the whorehouse really stands out-you can see a half naked fat guy getting shot in the kidney at point blank range with a pistol loaded with poison bullets. Grisly and unforgettable! Add also one of the most brutal decapitations ever captured to film and you have a winner. All in all, I'd strongly recommend this film to everyone interested in vigilante flicks - "The Exterminator" is surely an unforgettable experience. 9 out of 10.
(Enlargeable)
Audio commentary
with writer/director James Glickenhaus moderated by Temple of Schlock's Chris Poggiali