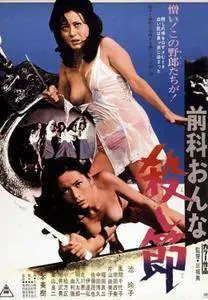 Ex-Convict Women (1973)
DVDRip | AVI | 720x320 | DivX @ 1523 Kbps | 82 min | 1,07 Gb
Audio: Japanese (日本語) AC3 2.0 @ 192 Kbps | Subs: English hardcoded
+ English Commentary track
Genre: Action, Crime, Thriller, Pinku
Director:
Atsushi Mihori
Writers:
Fumio Kônami (screenplay), Hirô Matsuda (screenplay)
Stars:
Reiko Ike, Miki Sugimoto, Chiyoko Kazama
Reiko Ike stars as the daughter of a man who has been pushed into drug dealing by the local Yakuza mob. Having outlived his usefulness to the gang he is murdered and Reiko is gang raped, leading her to attempt a knife attack on the Yakuza boss (Ryoji Hayama) at a swank nightclub. Failing to kill him she ends up in prison, where she befriends a crew of other malcontents (including Yumiko Katayama and Chiyoko Kazama) and meets the Yakuza boss's girlfriend (Miki Sugimoto). Upon release Reiko reassembles her mob and launches a Machiavellian scheme to engineer a gang war between Hayama's Oba Industries and the formerly dominant Hamayasu Clan. The rival gangs begin killing each other off and Reiko works her way closer to her ultimate vengeance.
AKA:
Criminal Woman: Killing Melody (1973)
Fine all action, sex and violence Japanese style with real style. Simple yet effective this is, for once, a fairly straight forward tale of revenge with the super women to the fore. Big cat fight at the start is matched by a rematch at the end and everything in between is just pure fun. Bits of nasty violence, the cigarette stub and threat of chainsaw were surprises but mainly fast moving with decent mix of s&v. Nice sequence to illustrate our heroine having to go on the game to earn the dosh to set up the action. Instead of any boring build up with sad undertones we get a quick montage of humps and payments from US soldiers uniform pockets.
(click to enlarge)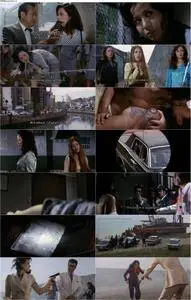 More in My Blog