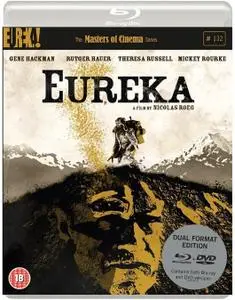 Eureka (1983) [Masters of Cinema - Eureka!, #132]
Blu-Ray | BDMV | AVC, 1920x1080, ~35.0 Mbps | 2hr 09mn | 45,4 GB
English: LPCM Audio, 1 ch, 1152 kbps \ LPCM Audio, 1 ch, 1152 kbps \ AC3, 2 ch, 192 kbps
Subtitles: English
Genre: Drama, Thriller


Director:
Nicolas Roeg
Writer:
Marshall Houts (book), Paul Mayersberg (screenplay)
Stars:
Gene Hackman, Theresa Russell, Rutger Hauer
Arctic prospector Jack McCann (Gene Hackman), after fifteen years of solitary searching, becomes one of the world's wealthiest men when he literally falls into a mountain of gold in 1925. Twenty years later, in 1945, he lives in luxury on a Caribbean island that he owns. But his wealth brings him no peace of mind as he copes with Helen (Jane Lapotaire), his bored, alcoholic wife; Tracy (Theresa Russell), his dear, but headstrong, daughter who has married a dissolute, philandering social-climber; and Miami mobsters who want his island to build a casino. His life is entangled with the obsessions of those around him with greed, power, and debauchery against a background of occult symbolism.
Extras:
- Isolated Score in LPCM 1.0
- Audio recording of Q&A with Nicolas Roeg at the world premiere (plays over the film)
- New interview with producer Jeremy Thomas (13:35)
- New interview with writer Paul Mayersberg (53:18)
- New interview with editor Tony Lawson (13:07)
- Theatrical trailer (2:42)

                                                                                                                Total   Video                                             
Title                                                           Codec   Length  Movie Size      Disc Size       Bitrate Bitrate Main Audio Track                          Secondary Audio Track
-----                                                           ------  ------- --------------  --------------  ------- ------- ------------------                        ---------------------
00001.MPLS                                                      AVC     2:09:42 40 662 623 808  48 788 969 387  41,80   35,02   LPCM 1.0 1152Kbps (48kHz/24-bit)          LPCM 1.0 1152Kbps (48kHz/24-bit)



DISC INFO:

Disc Title:     Eureka.83.MoC.BR
Disc Size:      48 788 969 387 bytes
Protection:     AACS
BD-Java:        No
BDInfo:         0.5.8

PLAYLIST REPORT:

Name:                   00001.MPLS
Length:                 2:09:42.524 (h:m:s.ms)
Size:                   40 662 623 808 bytes
Total Bitrate:          41,80 Mbps

VIDEO:

Codec                   Bitrate             Description     
-----                   -------             -----------     
MPEG-4 AVC Video        35023 kbps          1080p / 23,976 fps / 16:9 / High Profile 4.1

AUDIO:

Codec                           Language        Bitrate         Description     
-----                           --------        -------         -----------     
LPCM Audio                      English         1152 kbps       1.0 / 48 kHz / 1152 kbps / 24-bit
LPCM Audio                      English         1152 kbps       1.0 / 48 kHz / 1152 kbps / 24-bit
Dolby Digital Audio             English         192 kbps        2.0 / 48 kHz / 192 kbps

SUBTITLES:

Codec                           Language        Bitrate         Description     
-----                           --------        -------         -----------     
Presentation Graphics           English         21,909 kbps                     

FILES:

Name            Time In         Length          Size            Total Bitrate   
----            -------         ------          ----            -------------   
00001.M2TS      0:00:00.000     2:09:42.524     40 662 623 808  41 799          

CHAPTERS:

Number          Time In         Length          Avg Video Rate  Max 1-Sec Rate  Max 1-Sec Time  Max 5-Sec Rate  Max 5-Sec Time  Max 10Sec Rate  Max 10Sec Time  Avg Frame Size  Max Frame Size  Max Frame Time  
------          -------         ------          --------------  --------------  --------------  --------------  --------------  --------------  --------------  --------------  --------------  --------------  
1               0:00:00.000     0:07:49.510     35 142 kbps     53 708 kbps     00:00:13.138    41 031 kbps     00:03:16.613    39 535 kbps     00:00:13.138    183 196 bytes   465 454 bytes   00:07:10.012    
2               0:07:49.510     0:08:34.430     35 077 kbps     46 606 kbps     00:11:15.007    38 642 kbps     00:10:27.918    37 080 kbps     00:09:44.166    182 873 bytes   415 846 bytes   00:09:58.931    
3               0:16:23.941     0:06:48.074     35 012 kbps     50 930 kbps     00:21:42.676    39 275 kbps     00:21:40.966    37 594 kbps     00:22:38.106    182 537 bytes   439 587 bytes   00:18:58.929    
4               0:23:12.015     0:09:15.388     35 080 kbps     48 692 kbps     00:31:42.358    40 803 kbps     00:28:46.891    39 022 kbps     00:28:45.974    182 891 bytes   518 183 bytes   00:31:37.687    
5               0:32:27.403     0:09:46.252     35 033 kbps     48 445 kbps     00:40:28.843    40 678 kbps     00:40:28.843    38 141 kbps     00:40:28.843    182 648 bytes   719 969 bytes   00:40:28.884    
6               0:42:13.656     0:09:14.845     35 006 kbps     45 882 kbps     00:47:29.972    40 351 kbps     00:46:12.436    38 778 kbps     00:47:29.596    182 504 bytes   533 711 bytes   00:49:41.311    
7               0:51:28.502     0:12:19.947     35 062 kbps     46 841 kbps     01:01:57.588    40 811 kbps     01:01:57.255    37 394 kbps     01:03:29.764    182 796 bytes   443 302 bytes   01:02:29.454    
8               1:03:48.449     0:10:32.465     35 000 kbps     47 482 kbps     01:07:55.613    40 333 kbps     01:08:44.829    37 700 kbps     01:09:19.572    182 472 bytes   446 118 bytes   01:09:23.075    
9               1:14:20.914     0:12:57.318     34 981 kbps     45 746 kbps     01:17:58.840    38 812 kbps     01:25:34.087    37 505 kbps     01:15:20.891    182 374 bytes   413 352 bytes   01:25:44.430    
10              1:27:18.233     0:08:55.326     35 010 kbps     47 671 kbps     01:32:55.319    40 477 kbps     01:35:15.835    39 566 kbps     01:33:05.997    182 528 bytes   536 854 bytes   01:32:55.820    
11              1:36:13.559     0:10:42.058     35 075 kbps     48 458 kbps     01:42:07.830    40 071 kbps     01:42:07.704    37 199 kbps     01:45:51.928    182 867 bytes   439 019 bytes   01:45:58.977    
12              1:46:55.617     0:12:34.712     34 996 kbps     46 230 kbps     01:50:07.642    40 145 kbps     01:51:00.862    37 871 kbps     01:50:07.642    182 452 bytes   412 260 bytes   01:56:32.068    
13              1:59:30.329     0:10:12.194     34 869 kbps     47 641 kbps     01:59:53.060    40 996 kbps     01:59:53.060    38 777 kbps     01:59:52.894    181 827 bytes   480 720 bytes   02:02:31.010    

STREAM DIAGNOSTICS:

File            PID             Type            Codec           Language                Seconds                 Bitrate                 Bytes           Packets         
----            ---             ----            -----           --------                --------------          --------------          -------------   -----           
00001.M2TS      4113 (0x1011)   0x1B            AVC                                     7782,441                35 023                  34 070 961 740  185 279 075     
00001.M2TS      4352 (0x1100)   0x80            LPCM            eng (English)           7782,441                2 310                   2 247 545 568   12 451 776      
00001.M2TS      4353 (0x1101)   0x80            LPCM            eng (English)           7782,441                2 310                   2 247 545 568   12 451 776      
00001.M2TS      4354 (0x1102)   0x81            AC3             eng (English)           7782,441                192                     186 776 832     1 215 995       
00001.M2TS      4608 (0x1200)   0x90            PGS             eng (English)           7782,441                22                      21 313 442      125 164         


All thanks to the original uploader



If you like this release please visit my blog
In it you will find "Masters of Cinema - Eureka!" releases