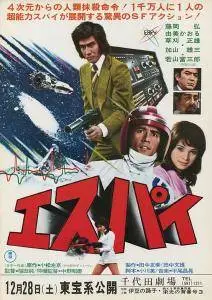 Esupai / E.S.P.Y. (1974)
Japanese | DVDRip | MKV | 680x340 | AVC @ 1999 kb/s | 1.45 GB
Audio: AC-3 @ 192 kb/s | 1 channel | 01:34:26 minutes | Subs: English (srt)
Genre: Mystery, Sci-Fi, Thriller
The film deals with the recruitment of racecar driver Jiro Miki (Kusakari) and his dog, Cheetah, to a group of people who use ESP, psychokinesis, and other special mental abilities to fight crime. The major villain is Wolf (Wakayama), whose behavior stems as a result of the prejudicial murder of his father over his father's psychic abilities.