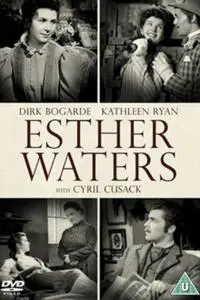 Esther Waters (1948)
DVDRip | AVI | 720x540 | XviD @ 1456 Kbps | English MP3 @ 224 Kbps | 105 min | 1,25 Gb
Genre: Drama
Directors:
Ian Dalrymple, Peter Proud
Writers:
Michael Gordon, George Moore (novel)
Stars:
Kathleen Ryan, Dirk Bogarde, Cyril Cusack
Esther goes into service in Victorian England, only to be seduced by the sweet talking groom William, who then takes off with his employer's daughter. Left alone to bring up the child, Esther manages and after 7 years has a chance at happiness. Then William turns up again…
For me, the strength of this film is in the accuracy of the racing details, the costumes and the culture of the time. The racing scenes, shot on Epsom Downs recreate the Derby's of 1881 and 1885, and have been thoroughly researched, even the jockeys used for Fred Archer and Fred Webb show an amazing likeness. Also, the scenes in the streets, on the racecourse and in the public house are totally believable.

This is a film made by those who love and cherish the subject. Although to my knowledge, having worked at Racing Post for many years and, written the history of the Derby, very few people today know of the this film. Strangely, a few years ago, I awoke at 4 am, unable to sleep, to find the film just starting and have never seen it since! However, this film has much to offer - a Victorian romance, the struggle of conscious, excitement and, a ripping gambling yarn.
(click to enlarge)
More in My Blog