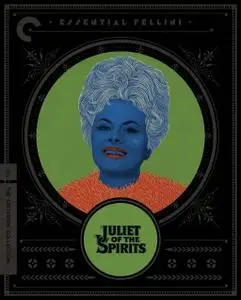 Essential Fellini. Disc 9/15. Juliet of the Spirits / Giulietta degli spiriti (1965) [Criterion Collection]
Blu-Ray | BDMV | AVC, 1920x1080, ~27.9 Mbps | 2hr 25mn | 45.4 GB
Italian (Italiano): LPCM Audio, 1 ch, 1152 kbps | Subtitles: English
Genre: Comedy, Drama, Fantasy


Directors:
Federico Fellini
Writers:
Federico Fellini (story), Tullio Pinelli (story)
Stars:
Giulietta Masina, Sandra Milo, Mario Pisu
Federico Fellini partnered with his wife and muse, actor Giulietta Masina, for this phantasmagoric character study, the director's first color feature. Drawing on details from her personal life, Masina plays a woman dabbling in spiritualism whose hold on reality begins to slip when she learns that her husband is having an affair, sending her on a hallucinatory journey of self-discovery in which memories, dreams, and supernatural forces merge in a kaleidoscopic gestalt. With virtuosic cinematography from Gianni di Venanzo and a fearless lead performance by Masina, Juliet of the Spirits is one of Fellini's most visionary films, an opposite number to 8½ that examines the director's central preoccupations—sex and love, life and death, fantasy and reality—from a woman's perspective.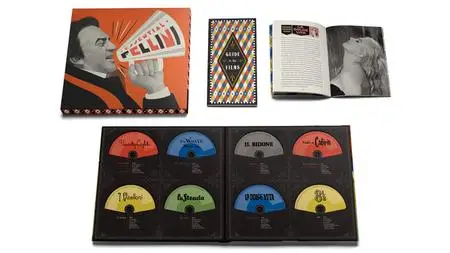 Essential Fellini:
One hundred years after his birth, Federico Fellini still stands apart as a giant of the cinema. The Italian maestro is defined by his dualities: the sacred and the profane, the masculine and the feminine, the provincial and the urbane. He began his career working in the slice-of-life poetry of neorealism, and though he soon spun off on his own freewheeling creative axis, he never lost that grounding, evoking his dreams, memories, and obsessions in increasingly grand productions teeming with carnivalesque imagery and flights of phantasmagoric surrealism while maintaining an earthy, embodied connection to humanity. Bringing together fourteen of the director's greatest spectacles, all beautifully restored, this centenary box set is a monument to an artist who conjured a cinematic universe all his own: a vision of the world as a three-ring circus in which his innermost infatuations, fears, and fantasies take center stage.
Special Features:
- New 4K digital restoration, with uncompressed monaural soundtrack
- 4K restoration of Toby Dammit, Fellini's contribution to a 1968 omnibus film based on tales by Edgar Allan Poe
- Fellini: A Director's Notebook, a film by Fellini from 1969, newly restored in 4K
- Reporter's Diary: "Zoom on Fellini," a behind-the-scenes documentary
- Familiar Spirits, a 1969 interview with Fellini by 8½ actor lan Dallas
- Trailer