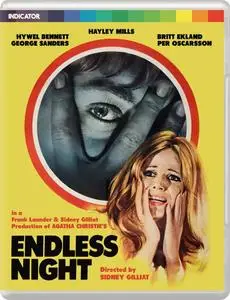 Endless Night (1972) + Extra
BDRip 720p | MKV | 1280 x 720 | x264 @ 2560 Kbps | 1h 39mn | 2,16 Gb + 144 Mb
Audio: English AC3 1.0 @ 160 Kbps + 2 Commentary tracks | Subtitles: English
Genre: Crime, Drama, Horror | Director: Sidney Gilliat
Michael Rogers (Hywel Bennett) is a chauffeur with little money, but big dreams. Foremost of these is building his dream house on the perfect piece of land. Michael gets his chance when his new girlfriend, Ellie Thomsen (Hayley Mills), turns out to be an extremely wealthy heiress. The two are wed and are soon living in a modern house on Gipsy's Acre. Their idyllic life shatters around them with a series of bizarre events and threats. Micheal comes under the disapproving eye of Ellie's greedy family and her interfering best friend Greta (Britt Ekland). On top of that, local legend says their property is cursed. What danger lurks for the young newlyweds, and is it a human plot or something supernatural?
(Enlargeable)

Commentary tracks:
1) "The British Entertainment History Project (BEHP) Interview with Sidney Gilliat Conducted by Roy Fowler and Taffy Haines on 15th May 1990" plays as alternate audio track over the film (99:35)
2) "The John Player Lecture with Bernard Hermann Conducted by Canadian Writer Ted Gilling at the National Film Theatre, London on 11 June 1972" plays as an alternate audio track over the film (52:29)
Extra:
– "A Full House: Hayley Mills on Endless Night" 2020 featurette (7:20)