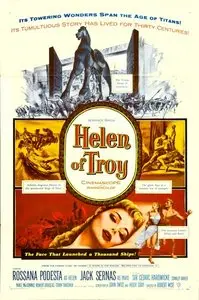 Helen of Troy / Елена Троянская (1956) [Custom]
DVD Video | 1hr 55mn | PAL 4:3 | 720x576 | 5.97 Gb
English: Dolby AC3, 6 ch; English \ Russian: Dolby AC3, 2 ch; Spanish: Dolby AC3, 1 ch
Subtitles: English, German, Spanish, French, Italian, Portuguese, Danish, Finnish, Norwegian, Swedish, Croatian, Slovenian, Czech, Greek, Hungarian, Polish, Turkish
Genre: Adventure | Drama | History
IMDB Rating: 6.2/10 (1.374 votes)
Director:
Robert Wise
Writers:
John Twist, Hugh Gray
Stars:
Stanley Baker, Rossana Podestà, Brigitte Bardot
Prince Paris of Troy, shipwrecked on a mission to the king of Sparta, meets and falls for Queen Helen before he knows who she is. Rudely received by the royal Greeks, he must flee…but fate and their mutual passions lead him to take Helen along. This gives the Greeks just the excuse they need for much-desired war.
Название:
Елена Троянская
Оригинальное название:
Helen of Troy
Год выпуска:
1956
Жанр:
Драма, мелодрама, исторический
Выпущено:
США, Италия
Режиссер:
Роберт Уайз
В ролях:
Россана Подеста, Жак Серна, Брижит Бардо, Седрик Хардвик, Стэнли Бэйкер, Ниалл МакГиннис, Нора Суинбёрн, Роберт Дуглас, Торин Тэтчер
О фильме:
Добросовестно поставленная, роскошная, костюмированная картина рассказывает о женщине, из-за которой началась Троянская война, воспетая великим Гомером.
Русский перевод:
Любительский (одноголосый закадровый)
Release Bornik