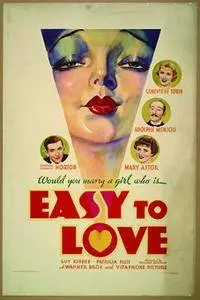 Easy to Love (1934)
DVDRip | MKV | 720x480 | x264 @ 1986 Kbps | English AC3 2.0 @ 384 Kbps | 61 min | 1,01 Gb
Genre: Comedy, Romance
Carol feels, for whatever reason, that her husband, John, has grown indifferent to her, and is on a quest to find out why, suspecting another woman. She sees the family physician, Dr. Swope, first and then hires a private detective. Her own sleuthing is more effective and she devises a plan; having long been pursued by Eric, she apparently accedes and accompanies him to an apartment and, per her plan, enter the wrong one. There, they find Carol's best friend, Charlotte, and John hiding in a closet. The latter, showing more nerve than good sense, goes into a rage and berates Carol for her apparent philandering. The battle continues at home, where their daughter Janet informs them that because of them, she and Paul have given up on the idea of marriage, but are going away together, anyway. Carol and John trail them to a hotel and find them in twin beds, whereupon John, armed with a fire-ax, summons a justice of the peace and demands a fire-ax version of a shotgun wedding.
Thanks to Turner Classic Movie Channel, this rare 1934 Warners Comedy survives and turns up occasionally.

Sexual and boudoir situations and dialogue hold up well viewed in 21st century America! Dapper Adolphe Menjou cavorts with gorgeous Mary Astor behind his wife's back. (lovely Genevive Tobin) Supporting role played so well by Everett Edward Horton as a wealthy friend of the family in love with Tobin. The opening scene of a double date swap in the limo must be seen to be believed for this era! What a shame Will Hays prevailed with his "code" and so relatively few movies like this really showed us that they had a lot of fun back in the 30s. Don't miss it when it comes on….it's a joy of an early 30s picture!
(click to enlarge)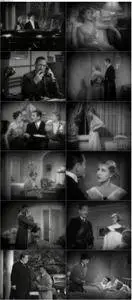 More in My Blog