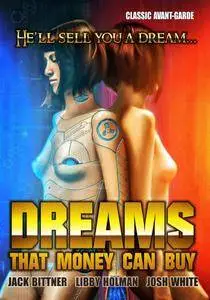 Dreams That Money Can Buy (1947)
DVDRip | AVI | 720x528 | XviD @ 2065 Kbps | 80 min | 1,38 Gb
Audio: English AC3 2.0 @ 192 Kbps + Alternative soundtrack | Subs: None
Genre: Avant-Garde, Fantasy
Berlin-born Hans Richter - Dadaist, painter, film theorist and filmmaker - was for four decades one of the most influential members of the cinematic avant-garde. Richter assembled some of the century's liveliest artists as co-creators of Dreams That Money Can Buy, his most ambitious attempt to bring the work of the European avant-garde to a wider cinema audience. Among its admirers is film director David Lynch.
Joe, a young man down on his luck, discovers he has the power to create dreams, and sets up a business selling them to others. The 'dreams' he gives to his clients are the creations of Max Ernst, Fernand Léger, Man Ray, Marcel Duchamp, Alexander Calder and Richter himself, and the result is by turns playful, hypnotic, satirical, charming and nightmarish. Dreams That Money Can Buy is a film in seven segments namely:
Desire (Director, Writer - Max Ernst)
The Girl with the Prefabricated Heart (Director, Writer - Fernand Léger)
Ruth, Roses and Revolvers (Director, Writer - Man Ray)
Discs (Director, Writer - Marcel Duchamp)
Ballet (Director, Writer - Alexander Calder)
Circus (Director, Writer - Alexander Calder)
Narcissus (Director, Writer - Hans Richter)
Wow! For a film that was made in 1947, this was way ahead of it's time. 7 different surreal artists, including Duchamp; teamed up to create the dreams within the story. This is a rare film and if you can track down a copy, you won't be disappointed. The story is about a guy who starts a business selling people his dreams. People who need excitement come to him for a bizarre dream experience. Surreal images and at times crazy stream of conscious dialog follow. My favorite scene is later in the film, when the guy is walking up the ladder, and every time he takes a step, the step before disappears. 10/10
(click to enlarge)

Note:
An exclusive alternative soundtrack by London-based Baroque pop band The Real Tuesday Weld, with narration by Brazilian chanteuse Cibelle and English alchemist David Piper.
More in My Blog