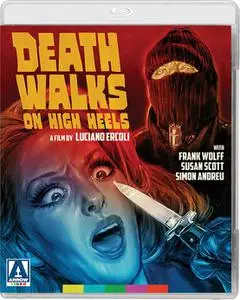 Death Walks on High Heels (1971)
BDRip | MKV | 1024x436 | x264 @ 3625 Kbps | 107 min | 3,14 Gb
Audio: Italiano AC3 2.0 @ 192 Kbps + English dub MP3 @ 128 Kbps | Subs: English
+ English Commentary track
Genre: Mystery, Thriller
Director:
Luciano Ercoli
Writers:
Ernesto Gastaldi (screenplay), Mahnahén Velasco (screenplay) (as May Velasco)
Stars:
Frank Wolff, Nieves Navarro, Simón Andreu
A famed jewel thief named Rochard is slashed to death on a train. His daughter Nicole, a famous nightclub performer in Paris, is questioned by the police about some missing diamonds but she claims to know nothing about this. Nicole is then terrorized by a masked man with piercing blue eyes who demands to know where her father has hidden the stolen diamonds. Suspecting that her jealous boyfriend Michel may be the man who is harassing her, Nicole and her new-found friend Dr. Robert Matthews escape to England and apparant safety. But the killer will strike again…
A really fun giallo that is more than a little of a fishy tale. We get a strange seller of fish on the beach, always popping up, an extraordinary attempt at erotic fish eating and absolutely masses of red herrings. But aside from all that this is a most convoluted tale where nobody could predict the outcome, let alone the hilarious pair from Scotland Yard. Indeed more humour than usual in this slightly longer than usual sparkling giallo. Not filled with killings but when they come they are most effective and explicit, and the sexiness of the opening with the Crazy Horse setting continues throughout, mainly thanks to Nieves Navarro. Opening in Paris then, we move to London, some fine night shots near The Windmill, and finally to 'the countryside, which I had always assumed to be somewhere in the UK but, the clue is in the co-production status and is I learn in fact Spain. Highly recommended.
(click to enlarge)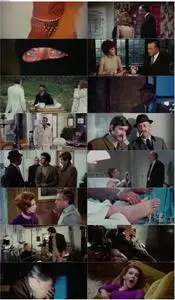 Audio Commentary
by film critic Tim Lucas
More in My Blog