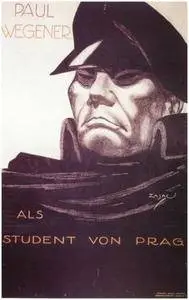 Der Student von Prag / The Student of Prague (1913)
A Film by Paul Wegener, Stellan Rye
DVDRip | MKV | 1h 22min | 640x480 | AVC @ 1800Kbps | AAC @ 160Kbps
Lang: Silent-German Intertitles | Subs: English | 1.14 GB
Genre: Drama | Fantasy | Horror | Romance
IMDB Info
IMDB Rating:
6.5/10
Directed by:
Paul Wegener, Stellan Rye
Starring:
Paul Wegener, Grete Berger, Lyda Salmonova
Storyline:
A poor student rescues a beautiful countess and soon becomes obsessed with her. A sorcerer makes a deal with the young man to give him fabulous wealth and anything he wants, if he will sign his name to a contract. The student hurriedly signs the contract, but doesn't know what he's in for.
Screenshots: