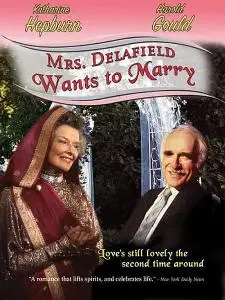 Mrs. Delafield Wants to Marry (1986)
DVDRip | MKV | 704x536 | DivX @ 1998 Kbps | English AC3 2.0 @ 192 Kbps | 94 min | 1,45 Gb
Genre: Drama, Romance, Comedy
Director
: George Schaefer
Writer
: James Prideaux
Stars
: Katharine Hepburn, Harold Gould, Bibi Besch
A well-to-do widow shocks her snobbish WASP family when she announces that she has fallen in love with her Jewish doctor. His family is equally devastated by the news leading both individuals to have to fight the prejudices of their families and of their narrow-minded neighbors.
This made-for-CBS film is a tailor-made TV vehicle for the great Kate. Her chemistry with Harold Gould is warm in a prickly way – perfect for both leads. Denholm Elliott lends marvelous supporting work – as per usual – moving things along nicely. The normally feckless Charles Frank is surprisingly compelling as the lone child more interested in Kate's happiness than improving his own financial situation. The rest of the professional cast, led by Kathryn Walker and David Ogden Stiers, snipe and snicker capably enough but add nothing particularly new to the proceedings.

But, the opportunity to see Katherine Hepburn in one of her final leading performances as a spunky octogenarian who still considers herself worthy of love is the main reason to watch this audience-pleaser.
(click to enlarge)

More in My Blog