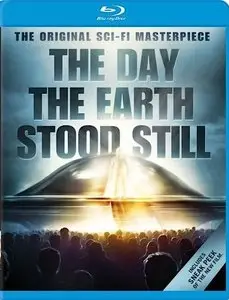 The Day the Earth Stood Still (1951) + Extra
BDRip 720p | MKV | 1280 x 720 | x264 @ 2048 Kbps | 1h 32mn | 1,90 Gb + 92 Mb
Audio: English AC3 5.1 @ 448 Kbps + 2 Commentary tracks | Subtitles: English
Genre: Sci-Fi, Thriller | Director: Robert Wise
An alien (Klaatu) with his mighty robot (Gort) land their spacecraft on Cold War-era Earth just after the end of World War II. They bring an important message to the planet that Klaatu wishes to tell to representatives of all nations. However, communication turns out to be difficult, so, after learning something about the natives, Klaatu decides on an alternative approach.
IMDB
- Won 1 Golden Globe
The first time i saw this movie, i was 10 yrs old. That was in 1974,it was on t.v. that night, and my father, let me stay up to watch it. Because many years earlier, he saw it at the movie theater as a teenager. He told me that The Day the Earth Stood Still, was the reason he became a sci-fi fan. Well, so did i that night! To this day despite all the fancy, special effect, movies that are out there, this movie stands above them all. The humanity in this movie is so moving, that alone makes it a classic.But much more than that,it's message still rings true today,and should never be forgotten. A masterpiece!


IMDB Reviewer
(Enlargeable)
Commentaries:
1) Commentary of director Robert Wise and Nicholas Meyer
2) Commentary of film and music historians John Morgan, Steven Smith, William Stromberg, and Nick Redman
Extra:
– The Mysterious, Melodious, Theremin (5:40) is a pleasing piece that examines the origins and workings of this fascinating instrument, as well as its place in both The Day the Earth Stood Still and Science Fiction film history.