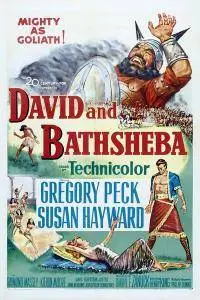 David and Bathsheba (1951)
English or Spanish (2 audio tracks) | DVDRip | AVI | 576x416 | XviD @ 1492 kb/s | 1.42 GB
Audio: MP3 @ 128 kb/s | 2 channels | 01:55:41 minutes | Subs: Spanish (srt)
Genre: Drama, History, Romance
Though David has all the wealth, power, wives & children inherent for the King of Israel he does not have what he craves most: the true love of a woman who loves him as a man instead of as King. He is attracted to Bathsheba, the wife of one of his soldiers who is more devoted to army duty than to his wife. David & Bathsheba succumb to their feelings. Their affair, her resulting pregnancy, & David's resolve to have her husband killed so Bathsheba will be free to marry, bring the wrath of God upon the kingdom. David must rediscover his faith in God in order to save Bathsheba from death by stoning, his kingdom from drought & famine, & himself from his many sins.