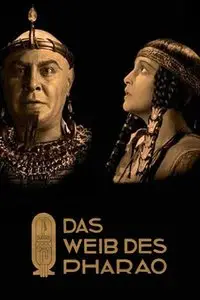 Das Weib des Pharao / The Loves of Pharaoh (1922)
Blu-Ray | BDMV | AVC, 1920x1080, ~15.0 Mbps | 1hr 39mn | 44,6 GB
Music (Original Score by Eduard Kunneke adapted by Frank Strobel): DTS-HD Master Audio, 6 ch, 4150 kbps \ LPCM Audio, 2 ch, 2304 kbps
Subtitles: German, English, Thai, French, Arabic, Chinese, Japanese, Russian, Spanish, Italian
Genre: Drama | History
IMDB Rating: 6.7/10 (368 votes)
Director:
Ernst Lubitsch
Writers:
Norbert Falk, Hanns Kräly
Stars:
Emil Jannings, Harry Liedtke, Paul Biensfeldt
The Ethiopian King Samlak offers his daughter Makeda to the powerful Pharaoh Amenes in order to secure peace between the two countries. What was intended as a political move ends as a debacle. Instead of Makeda, Amenes chooses Samlak's beautiful slave girl Theonis. Nevertheless, Amenes can not secure the love of Theonis as she is in love with the young Egyptian Ramphis. Having suffered humiliation, the Ethiopians declare war on Egypt. Amenes is injured in a battle and perishes - but only seemingly. The happy union between Theonis and Ramphis is in peril when Pharaoh Amenes returns to claim his wife and his throne.
Extras:
- Trailer: English
- Trailer: German
- The Return of Lubitsch's Pharaoh
- Film Concert by the WDR Rundfunkorchester
- Production Stills
- Missing Scenes
- Program Booklet


DISC INFO:

Disc Title: DasWeibDesPharao.22.BR
Disc Size: 47 937 119 889 bytes
Protection: AACS
BD-Java: No
BDInfo: 0.5.8

PLAYLIST REPORT:

Name: 00021.MPLS
Length: 1:39:30.041 (h:m:s.ms)
Size: 17 111 138 304 bytes
Total Bitrate: 22,93 Mbps

VIDEO:

Codec Bitrate Description
––- –––- –––––-
MPEG-4 AVC Video 14996 kbps 1080p / 24 fps / 16:9 / High Profile 4.1

AUDIO:

Codec Language Bitrate Description
––- –––– –––- –––––-
DTS-HD Master Audio Miscellaneous languages4150 kbps 5.1 / 48 kHz / 4150 kbps / 24-bit (DTS Core: 5.1 / 48 kHz / 1509 kbps / 24-bit)
LPCM Audio Miscellaneous languages2304 kbps 2.0 / 48 kHz / 2304 kbps / 24-bit

SUBTITLES:

Codec Language Bitrate Description
––- –––– –––- –––––-
Presentation Graphics German 44,367 kbps
Presentation Graphics English 31,062 kbps
Presentation Graphics Thai 29,439 kbps
Presentation Graphics French 25,968 kbps
Presentation Graphics Arabic 8,246 kbps
Presentation Graphics Chinese 9,814 kbps
Presentation Graphics Japanese 5,377 kbps
Presentation Graphics Russian 5,678 kbps
Presentation Graphics Spanish 5,992 kbps
Presentation Graphics Italian 6,742 kbps

––––––––––––––––––––––––––––––-