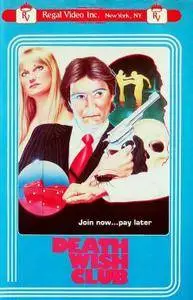 The Dark Side to Love (1984)
DVDRip | AVI | 720x544 | DivX @ 2191 Kbps | 90 min | 1,47 Gb
Audio: English MP3 @ 128 Kbps | Subs: English (embedded in MKV)
Genre: Adventure, Comedy, Romance
Director:
John Carr
Writer:
Philip Yordan (screenplay)
Stars:
Merideth Haze, Rick Barnes, J. Martin Sellers
Pre-medical student Glen Marshall (Rick Barnes) falls head-over-heels for Gretta (Meridith Haze), a blue-movie actress who plays piano at a tawdry night club. Gretta leads Glen into a nether-world of bizarre characters, including a group of rich patrons whose desires are not only quirky but dangerous. Bored and jaded by all of life's sensualities, they play their own imaginative versions of Russian roulette, seeking their final rush of adrenaline…death! Glen rebuffs the group at the first suicide game he attends. Gretta overdoses. Grieved, Glen attends her funeral. Nights later, he discovers Gretta is not dead but has become piano-player "Charlie White." Glen's obsession to restore Gretta to the woman he cherished incites the sinister circle to take them captives for the ultimate chilling and killing charade.
This film is acted and directed with just the right amount of tongue in cheek satire. I love watching it, especially the character of Mary Contrary. Paul Keefer, the actor playing this role stands out and really makes the film. A lot of films are just badly made and that is what makes them cult classics. However, this film is intentionally made to look and feel campy. John Carr does a terrific job of directing. However, the real star of the film, is (I hate to repeat myself) Paul Keefer as Mary Contrary. Every time he is in a scene, I just can't stop laughing. The one character that stands out however, like a sore thumb is William C Moore as Federico Lebuse. He tries too hard to act with a foreign accent and doesn't even come close to doing it with any type of ability. He isn't funny. He isn't clever. He isn't appealing. He just isn't an actor. In spite of his horrible job of acting and dragging the film down, it is a delightful film and a must see for anyone who appreciates fun comedy.
(click to enlarge)

More in My Blog