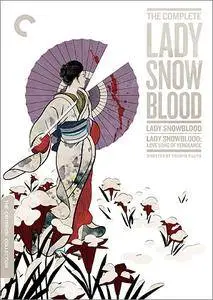 The Complete Lady Snowblood
Lady Snowblood (1973) + Lady Snowblood 2: Love Song of Vengeance (1974)
2xDVD9 | VIDEO_TS | NTSC 16:9 | 01:37:07 + 01:29:16 | 7,65 Gb + 5,95 Gb
Audio: Japanese AC3 1.0 @ 384 Kbps | Subtitles: English
Genre: Action, Drama, Thriller | The Criterion Collection #790 and #791
Director:
Toshiya Fujita
Writers:
Kazuo Kamimura (story), Kazuo Koike (story)
Stars:
Meiko Kaji
A young woman (Meiko Kaji), trained from childhood as an assassin and hell-bent on revenge for the murders of her father and brother and the rape of her mother, hacks and slashes her way to gory satisfaction in turn-of-the-twentieth-century Japan. Rampant with inventive violence and spectacularly choreographed swordplay, Toshiya Fujita's pair of influential cult classics Lady Snowblood and Lady Snowblood: Love Song of Vengeance are bloody, beautiful extravaganzas composed of one elegant widescreen composition after another. The first Lady Snowblood was a major inspiration for Quentin Tarantino's Kill Bill saga, and both of Fujita's films remain cornerstones of Asian action cinema.
================================================================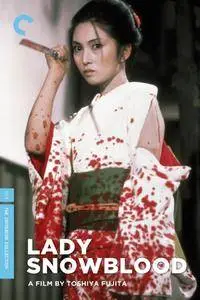 Lady Snowblood (1973)
In Japanese with optional English subs | 01:37:07 | 7,65 Gb
Gory revenge is raised to the level of visual poetry in Toshiya Fujita's stunning Lady Snowblood. A major inspiration for Quentin Tarantino's Kill Bill saga, this endlessly inventive film, set in late nineteenth-century Japan, charts the single-minded path of vengeance taken by a young woman (Meiko Kaji) whose parents were the unfortunate victims of a gang of brutal criminals. Fujita creates a wildly entertaining action film of remarkable craft, an effortless balancing act between beauty and violence.
Like many of you, Id never heard the title Lady Snowblood before Kill Bill came out, so when I watched Kill Bill and saw Tarantino mention this film as one of his biggest influences, well I knew I would have to check it out sooner or later. So did Tarantino really rip off this flick or what? You bet your double edged sword he did!




The story is about this couple who get mugged by these four thugs. The husbands gets the ax by the killers and the wife gets raped by all of them many times. When the lady kills one of the killers and slays him she ends up in jail pregnant with a bastard child. When the child is born the mother dies, but not before whispering into the childs ear that her only purpose in life will be to kill those who were responsible for the death of her family. That little girl is raised by a Kung Fu master and ends up being Lady Snowblood. A creature living only to avenge those who murdered her entire family.




I wont say Tarantino isn't a genius on his own right the guy is one of my favorites, but when he gets inspired he sure knows where to get his inspiration from! There's many images lifted right off from this movie. Lets see the most notable of all rip offs is Oren Ishii who is no doubt molded after Lady Snowblood herself. Right down to her underground gangster deals and her ugly past. Right down to wanting to avenge her parents deaths. She chops heads and slices and dices like she means it! Blood sprays out in huge amounts in the same way that it sprays in Kill Bill, as if you just opened a sprinkler system to water your lawn.




There's the four or five people that she has to kill which pop up in her mind every time she sees them, exactly the same way as in Kill Bill. And I mean exactly the same way, all four bad guys looking down at the camera as if the camera was on the floor! Lady Snowblood has a list of people she has to kill, I mean the similarities are astounding. But still, it didn't really bother me since I was enjoying this damn movie so much! The story is what really pulls you in. Its a fantastically woven revenge film to the Nth degree! I mean the level of hatred thats transferred onto Lady Snowblood when she is a child and the horrible things that happen to her spawn one of the most hatred filled characters that I have seen in a long time. Just like Beatrix Kiddo, Lady Snowblood (aka Yuki Kashima) stops at no ones plea of mercy. She executes her revenge no matter what circumstances have occurred or changed from the time of her parents death. Basically its a you did it now you pay for it kind of story. But with some wonderful characters and complications along the way.




There were many excellent things about this movie but the most pivotal of all was the flawless direction brought on by Toshiya Fujita. I mean this movie was like ahead of its time or something. Or maybe thats just the way movies were made in the seventies and it raised to such cool levels in a natural way. But this film has all these visual gags and tricks that could have only been spawned from that glorious era known as the 70s. Many scenes show that this director took special care in making this movie special, like those scenes with Lady Snowblood walking in the snow with her dress filled with the blood of her victim.




So even though this movie gets pretty gory and violent, visually Id say its very elegant. The music is also incredibly good, mixing traditional Asian music with this great theme song that Tarantino took from this very movie and placed it in his. The song adds an incredible emotion to the film, specially when you know what it says. Also of special notice is the movies excellent performances! From the whole cast we get nothing but credibility and sincerity in the acting. There's an excellent scene in which Yukis mother is giving birth and dying at the same time and the dialog and performance she gives was really something!




If there's something I have to say that I didn't like its that the blood looked too red and too liquid. I mean, I know blood is liquid but not like water. Blood is thick and sticky and on this movie the blood looks a cartoonish red and flows like water which rested a couple of notches of credibility. But thats really nothing, the film is damn near perfect for me. Also don't go in expecting a Kung Fu movie cause this isn't a Kung Fu movie its a revenge movie. Don't get me wrong, there's swordplay involved and lots of violence. Decapitations, bodies split in half, hands cut off. But not necessarily any Kung Fu fights involved. So, lots of gore and slicing and dicing, but no Kung Fu.




In conclusion, a very very kick ass film. This is were Kill Bill was born and Kill Bill was as good as it was because it was already ripping off an truly excellent film. So, yeah, Id say go out of your freaking way to get this movie as soon as you can and enjoy one of the coolest revenge films to come out of Asian cinema. Lady Snowblood will get revenge on you if you don't!


IMDB Reviewer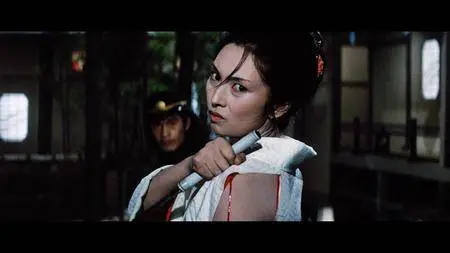 Special Features:
- New interview with Kazuo Koike, the writer of the manga that inspired the films (10:18)
- New interview with screenwriter Norio Osada (21:26)
- Trailer
––––––––––––––––––––––––––––––––––––––––––––––––––––-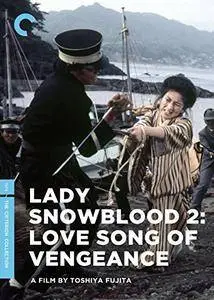 Lady Snowblood: Love Song of Vengeance (1974)
In Japanese with optional English subs | 01:29:16 | 5,95 Gb
Meiko Kaji returns in Toshiya Fujita's invigorating sequel to his own cult hit Lady Snowblood. Our furious heroine is captured by the authorities and sentenced to death for the various killings she has committed; however, she is offered a chance of escape – if she carries out dangerous orders for the government. More politically minded than the original, Lady Snowblood: Love Song of Vengeance is full of exciting plot turns and ingenious action sequences.
Toshiya Fujita's "Shura-yuki-hime: Urami Renga" aka. "Lady Snowblood 2: Love Song Of Vengeance" of 1974 is a quite different, but more than decent sequel to Fujita's blood-soaked and beautiful 1973 gem "Shurayukihime" (aka. "Lady Snowblood"). While the film does not nearly reach the greatness of its superb predecessor, "Love Song Of Vengeance" is yet another original and highly entertaining film that no lover of Japanese Cinema in general, and Chambara and Japanese Exploitation in particular should consider missing.




The film sadly cannot compete with its predecessor's unique style and beauty, but it is still stylish, and furthermore delivers a good story, and, most memorably, the wonderful Meiko Kaji, who comes back with greatness as the eponymous (anti-)heroine.




As it was the case with several other sequels to popular Japanese 70s exploitation flicks, the sequel adds some political/social commentary to the mainly vengeance-based plot of its predecessor. Obviously, the film is set several years after the events in the original "Lady Snowblood". Yuki/Lady Snowblood (Meiko Kaji) is captured, and sentenced to death for the thirty-seven killings committed by her in the predecessor. She is then offered to carry out an assassination in order to escape her execution…




I don't want to give away more, but I can assure that the plot gets quite interesting for my fellow Chambara-fanatics. Japanese Exploitation-Goddess Meiko Kaji (one of my personal favorite actresses ever) is once again stunningly beautiful and brilliant in her role. My personal favorite Kaji role will always be that of female prison escapee Nami Matsushima in the brilliant "Joshuu Sasori" (aka. "Female Prisoner Scorpion") films, but the role of Lady Snowblood is also essential, and no lover of Cult-cinema could afford to miss her in the role (especially in the original, but also in the sequel).




Meiko's presence alone would make any film worthwhile, in my opinion, and the film has a lot more to offer. The film's is, once again, filled with quite a bit of stylish bloodshed, which is not quite as aesthetic, but at some points even bloodier than in the predecessor. Unfortunately, the score in this one is not as memorable as that in the original (for which Meiko Kaji sang the theme song), and yet it is more than decent.




Nowadays, the "Lady Snowblood" films are probably best known for being the main inspiration for Quentin Tarantino's "Kill Bill" films, but they sure deserve more attention for their own sake. The first film, "Lady Snowblood", is brilliant, and while "Love Song Of Vengeance" is not the masterpiece its predecessor was, it is still a highly entertaining, stylish and memorable film that I highly recommend to every lover of Chambara and Cult Cinema.


IMDB Reviewer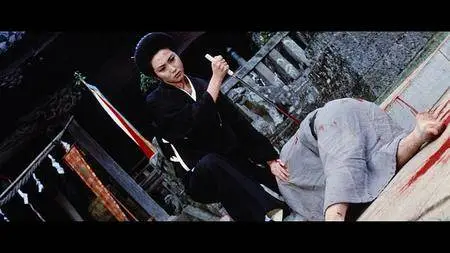 Special Features: Trailer
================================================================
All Credits goes to Original uploader.