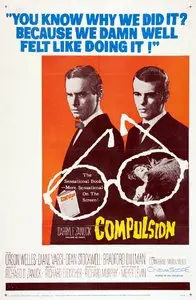 Compulsion / Насилие / Принуждение (1959) [Custom]
DVD Video | 1hr 43mn | NTSC 16:9 | 720x480 | 7.21 Gb
English: Dolby AC3, 4 ch; French \ Spanish \ Russian: Dolby AC3, 2 ch
Subtitles: English, Spanish
Genre: Biography | Crime | Drama
IMDB Rating: 7.5/10 (4.209 votes)
Director:
Richard Fleischer
Writers:
Richard Murphy (screenplay), Meyer Levin (based on the novel by)
Stars:
Orson Welles, Dean Stockwell, Diane Varsi
In 1924 Chicago, Artie Strauss and Judd Steiner are friends and fellow law students who both come from wealthy backgrounds. They have few true friends as they believe all their contemporaries are intellectually inferior. Within their relationship, Artie is the dominant and Judd the submissive who says he will do whatever Artie tells him. Although Judd acts intellectually arrogant to others, he also shows signs of weakness and reticence most evident to Artie. Part of their goal in life is to experience how it feels to do everything. As such, they plot to commit what they consider the perfect crime - a kidnapping and murder - not only so that they can experience the sense of killing for killing's sake, but also taunt the law with the knowledge of it and their superiority after the fact. They believe their crime is above the law. Their murder of young Paulie Kessler is not so perfect, with evidence at the scene uncovered by one of their law school colleagues, Sid Brooks, who also works …
Название:
Насилие / Принуждение
Оригинальное название:
Compulsion
Год выпуска:
1959
Жанр:
Триллер, драма, криминал, биография, история
Выпущено:
США
Режиссер:
Ричард Флейшер
В ролях:
Орсон Уэллс, Дайан Варси, Дин Стокуэлл, Брэдфорд Диллман, Э. Г. Маршалл, Мартин Милнер, Ричард Андерсон, Роберт Ф. Саймон, Эд Биннс, Роберт Бёртон
О фильме:
Чикаго, 1924 год. Два успешных, богатых, но психически нездоровых студента Джадд Стеинер и Артур Стросс ищут острые ощущения и заходят слишком далеко. Они решают, что могут совершить прекрасное убийство и избежать последствий, после чего убивают подростка Поли Кесслера. Однако на месте преступления оставлены две улики, которые, усилиями их сокурсника Сида Брукса приводят убийц на скамью подсудимых. История основана на подлинных фактах.
Thanks to original uploader