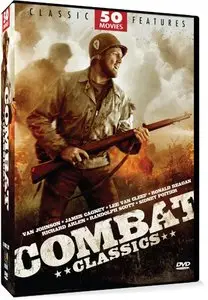 Combat Classics - 50 Movie Pack (2008)
DVD Video, 12 x DVD5 | Video_ts | ~ 4196 mn | NTSC 4:3 | 720x480 | 12 x 4.36 Gb
English: Dolby AC3, 2 ch
Subtitles: None
Genre: Biography | History | Wars
Amazon.com
Stars:
Randolph Scott, Ronald Reagan, James Cagney, Richard Arlen
50 gripping feature films capture the heroism and the horror of war in this collection compiled by Mill Creek Entertainment!
You will find classic screen legends such as Richard Arlen, Randolph Scott, Van Johnson, James Cagney, Claudette Colbert, Ronald Reagan and Montgomery Clift. Classic movies include Gung Ho, Go For Broke, Blood on the Sun, The Big Lift, Hell in Normandy and many more. There's plenty of action for everyone in this value-priced DVD set.
DVD 1:
- This is the Army (1943)
- Identity Unknown (1945)
- Kansas Pacific (1953)
- Lady from Chungking (1942)
DVD 2:
- The Big Lift (1950)
- They Raid by Night (1942)
- The Torch (1950)
- Yellowneck (1955)
DVD 3:
- Hitler's S.S.: Portrait in Evil (1985)
- The Marines Are Coming (1934)
- Submarine Base (1943)
- Minesweeper (1943)
DVD 4:
- Three Came Home (1950)
- The Proud and Damned (1972)
- Spitfire (1942)
- Submarine Alert (1943)
DVD 5:
- Eagle in a Cage (1972)
- The Mark of the Hawk (1957)
- Sundown (1941)
- Then There Were Three (1961)
DVD 6:
- The War Devils aka I diavoli della guerra (1969)
- Go for Broke! (1951)
- 'Gung Ho!': The Story of Carlson's Makin Island Raiders (1943)
- Hearts in Bondage (1936)
DVD 7:
- The Last Chance (1945)
- Drums in the Deep South (1951)
- Hell in Normandy aka Testa di sbarco per otto implacabili (1968)
- Mutiny (1952)
DVD 8:
- Battle of the Eagles aka Partizanska eskadrila (1979)
- The Navy Way (1944)
- The Prisoner in the Middle aka Warhead (1977)
- Desert Commandos (1967)
DVD 9:
- The Battle of El Alamein (1969)
- One of Our Aircraft Is Missing (1942)
- Outpost in Morocco (1949)
- Pacific Inferno (1979)
DVD 10:
- The Steel Claw (1961)
- Battle of Blood Island (1960)
- Blood on the Sun (1945)
- Commandos (1968)
DVD 11:
- The Dawn Express (1942)
- Corregidor (1943)
- Black Brigade aka Carter's Army (1970)
- Immortal Battalion aka The Way Ahead (1944)
- Iron Angel (1964)
DVD 12:
- Bombs Over Burma (1942)
- British Intelligence (1940)
- The Bushwhackers (1951)
- The Adventures of Tartu (1943)
- Aerial Gunner (1943)
Thanks to original uploader


Title: CmbtCl3sCllctn.D5.D01
Size: 4.36 Gb ( 4 571 132,00 KBytes ) - DVD-5
Enabled regions: 1, 2, 3, 4, 5, 6, 8

VTS_01 :
Play Length: 01:54:16
Video: NTSC 4:3 (720x480) VBR
Audio:
Not specified (Dolby AC3, 2 ch)

VTS_02 :
Play Length: 01:10:26
Video: NTSC 4:3 (720x480) VBR
Audio:
Not specified (Dolby AC3, 2 ch)

VTS_03 :
Play Length: 01:12:47
Video: NTSC 4:3 (720x480) VBR
Audio:
Not specified (Dolby AC3, 2 ch)

VTS_04 :
Play Length: 01:08:25
Video: NTSC 4:3 (720x480) VBR
Audio:
Not specified (Dolby AC3, 2 ch)

–––––––––––––––––––––––––––––––––––-

Title: CmbtCl3sCllctn.D5.D02
Size: 4.36 Gb ( 4 571 138,00 KBytes ) - DVD-5
Enabled regions: 1, 2, 3, 4, 5, 6, 8

VTS_01 :
Play Length: 01:59:07
Video: NTSC 4:3 (720x480) VBR
Audio:
Not specified (Dolby AC3, 2 ch)

VTS_02 :
Play Length: 01:08:53
Video: NTSC 4:3 (720x480) VBR
Audio:
Not specified (Dolby AC3, 2 ch)

VTS_03 :
Play Length: 01:23:07
Video: NTSC 4:3 (720x480) VBR
Audio:
Not specified (Dolby AC3, 2 ch)

VTS_04 :
Play Length: 01:22:00
Video: NTSC 4:3 (720x480) VBR
Audio:
Not specified (Dolby AC3, 2 ch)

–––––––––––––––––––––––––––––––––––-

Title: CmbtCl3sCllctn.D5.D03
Size: 4.36 Gb ( 4 571 142,00 KBytes ) - DVD-5
Enabled regions: 1, 2, 3, 4, 5, 6, 8

VTS_01 :
Play Length: 02:24:48
Video: NTSC 4:3 (720x480) VBR
Audio:
Not specified (Dolby AC3, 2 ch)

VTS_02 :
Play Length: 01:10:48
Video: NTSC 4:3 (720x480) VBR
Audio:
Not specified (Dolby AC3, 2 ch)

VTS_03 :
Play Length: 01:04:11
Video: NTSC 4:3 (720x480) VBR
Audio:
Not specified (Dolby AC3, 2 ch)

VTS_04 :
Play Length: 01:05:38
Video: NTSC 4:3 (720x480) VBR
Audio:
Not specified (Dolby AC3, 2 ch)

–––––––––––––––––––––––––––––––––––-

Title: CmbtCl3sCllctn.D5.D04
Size: 4.36 Gb ( 4 571 136,00 KBytes ) - DVD-5
Enabled regions: 1, 2, 3, 4, 5, 6, 8

VTS_01 :
Play Length: 01:44:55
Video: NTSC 4:3 (720x480) VBR
Audio:
Not specified (Dolby AC3, 2 ch)

VTS_02 :
Play Length: 01:36:10
Video: NTSC 4:3 (720x480) VBR
Audio:
Not specified (Dolby AC3, 2 ch)

VTS_03 :
Play Length: 01:27:35
Video: NTSC 4:3 (720x480) VBR
Audio:
Not specified (Dolby AC3, 2 ch)

VTS_04 :
Play Length: 01:06:51
Video: NTSC 4:3 (720x480) VBR
Audio:
Not specified (Dolby AC3, 2 ch)

–––––––––––––––––––––––––––––––––––-

Title: CmbtCl3sCllctn.D5.D05
Size: 4.36 Gb ( 4 571 138,00 KBytes ) - DVD-5
Enabled regions: 1, 2, 3, 4, 5, 6, 8

VTS_01 :
Play Length: 01:36:47
Video: NTSC 4:3 (720x480) VBR
Audio:
Not specified (Dolby AC3, 2 ch)

VTS_02 :
Play Length: 01:24:18
Video: NTSC 4:3 (720x480) VBR
Audio:
Not specified (Dolby AC3, 2 ch)

VTS_03 :
Play Length: 01:27:57
Video: NTSC 4:3 (720x480) VBR
Audio:
Not specified (Dolby AC3, 2 ch)

VTS_04 :
Play Length: 01:21:27
Video: NTSC 4:3 (720x480) VBR
Audio:
Not specified (Dolby AC3, 2 ch)

–––––––––––––––––––––––––––––––––––-

Title: CmbtCl3sCllctn.D5.D06
Size: 4.36 Gb ( 4 571 138,00 KBytes ) - DVD-5
Enabled regions: 1, 2, 3, 4, 5, 6, 8

VTS_01 :
Play Length: 01:36:38
Video: NTSC 4:3 (720x480) VBR
Audio:
Not specified (Dolby AC3, 2 ch)

VTS_02 :
Play Length: 01:30:36
Video: NTSC 4:3 (720x480) VBR
Audio:
Not specified (Dolby AC3, 2 ch)

VTS_03 :
Play Length: 01:26:14
Video: NTSC 4:3 (720x480) VBR
Audio:
Not specified (Dolby AC3, 2 ch)

VTS_04 :
Play Length: 01:12:13
Video: NTSC 4:3 (720x480) VBR
Audio:
Not specified (Dolby AC3, 2 ch)

–––––––––––––––––––––––––––––––––––-

Title: CmbtCl3sCllctn.D5.D07
Size: 4.36 Gb ( 4 571 148,00 KBytes ) - DVD-5
Enabled regions: 1, 2, 3, 4, 5, 6, 8

VTS_01 :
Play Length: 01:33:31
Video: NTSC 4:3 (720x480) VBR
Audio:
Not specified (Dolby AC3, 2 ch)

VTS_02 :
Play Length: 01:25:51
Video: NTSC 4:3 (720x480) VBR
Audio:
Not specified (Dolby AC3, 2 ch)

VTS_03 :
Play Length: 01:29:31
Video: NTSC 4:3 (720x480) VBR
Audio:
Not specified (Dolby AC3, 2 ch)

VTS_04 :
Play Length: 01:16:45
Video: NTSC 4:3 (720x480) VBR
Audio:
Not specified (Dolby AC3, 2 ch)

–––––––––––––––––––––––––––––––––––-

Title: CmbtCl3sCllctn.D5.D08
Size: 4.36 Gb ( 4 571 142,00 KBytes ) - DVD-5
Enabled regions: 1, 2, 3, 4, 5, 6, 8

VTS_01 :
Play Length: 01:41:22
Video: NTSC 4:3 (720x480) VBR
Audio:
Not specified (Dolby AC3, 2 ch)

VTS_02 :
Play Length: 01:14:04
Video: NTSC 4:3 (720x480) VBR
Audio:
Not specified (Dolby AC3, 2 ch)

VTS_03 :
Play Length: 01:27:38
Video: NTSC 4:3 (720x480) VBR
Audio:
Not specified (Dolby AC3, 2 ch)

VTS_04 :
Play Length: 01:29:21
Video: NTSC 4:3 (720x480) VBR
Audio:
Not specified (Dolby AC3, 2 ch)

–––––––––––––––––––––––––––––––––––-

Title: CmbtCl3sCllctn.D5.D09
Size: 4.36 Gb ( 4 572 998,00 KBytes ) - DVD-5
Enabled regions: 1, 2, 3, 4, 5, 6, 8

VTS_01 :
Play Length: 01:33:59
Video: NTSC 4:3 (720x480) VBR
Audio:
Not specified (Dolby AC3, 2 ch)

VTS_02 :
Play Length: 01:42:34
Video: NTSC 4:3 (720x480) VBR
Audio:
Not specified (Dolby AC3, 2 ch)

VTS_03 :
Play Length: 01:29:08
Video: NTSC 4:3 (720x480) VBR
Audio:
Not specified (Dolby AC3, 2 ch)

VTS_04 :
Play Length: 01:29:20
Video: NTSC 4:3 (720x480) VBR
Audio:
Not specified (Dolby AC3, 2 ch)

–––––––––––––––––––––––––––––––––––-

Title: CmbtCl3sCllctn.D5.D10
Size: 4.36 Gb ( 4 571 140,00 KBytes ) - DVD-5
Enabled regions: 1, 2, 3, 4, 5, 6, 8

VTS_01 :
Play Length: 01:36:04
Video: NTSC 4:3 (720x480) VBR
Audio:
Not specified (Dolby AC3, 2 ch)

VTS_02 :
Play Length: 01:10:48
Video: NTSC 4:3 (720x480) VBR
Audio:
Not specified (Dolby AC3, 2 ch)

VTS_03 :
Play Length: 01:33:30
Video: NTSC 4:3 (720x480) VBR
Audio:
Not specified (Dolby AC3, 2 ch)

VTS_04 :
Play Length: 01:37:44
Video: NTSC 4:3 (720x480) VBR
Audio:
Not specified (Dolby AC3, 2 ch)

–––––––––––––––––––––––––––––––––––-

Title: CmbtCl3sCllctn.D5.D11
Size: 4.36 Gb ( 4 571 142,00 KBytes ) - DVD-5
Enabled regions: 1, 2, 3, 4, 5, 6, 8

VTS_01 :
Play Length: 01:02:14
Video: NTSC 4:3 (720x480) VBR
Audio:
Not specified (Dolby AC3, 2 ch)

VTS_02 :
Play Length: 01:10:10
Video: NTSC 4:3 (720x480) VBR
Audio:
Not specified (Dolby AC3, 2 ch)

VTS_03 :
Play Length: 01:10:07
Video: NTSC 4:3 (720x480) VBR
Audio:
Not specified (Dolby AC3, 2 ch)

VTS_04 :
Play Length: 01:27:25
Video: NTSC 4:3 (720x480) VBR
Audio:
Not specified (Dolby AC3, 2 ch)

VTS_05 :
Play Length: 01:20:49
Video: NTSC 4:3 (720x480) VBR
Audio:
Not specified (Dolby AC3, 2 ch)

–––––––––––––––––––––––––––––––––––-

Title: CmbtCl3sCllctn.D5.D12
Size: 4.36 Gb ( 4 571 344,00 KBytes ) - DVD-5
Enabled regions: 1, 2, 3, 4, 5, 6, 8

VTS_01 :
Play Length: 01:00:33
Video: NTSC 4:3 (720x480) VBR
Audio:
Not specified (Dolby AC3, 2 ch)

VTS_02 :
Play Length: 01:00:18
Video: NTSC 4:3 (720x480) VBR
Audio:
Not specified (Dolby AC3, 2 ch)

VTS_03 :
Play Length: 01:07:29
Video: NTSC 4:3 (720x480) VBR
Audio:
Not specified (Dolby AC3, 2 ch)

VTS_04 :
Play Length: 01:43:07
Video: NTSC 4:3 (720x480) VBR
Audio:
Not specified (Dolby AC3, 2 ch)

VTS_05 :
Play Length: 01:18:47
Video: NTSC 4:3 (720x480) VBR
Audio:
Not specified (Dolby AC3, 2 ch)