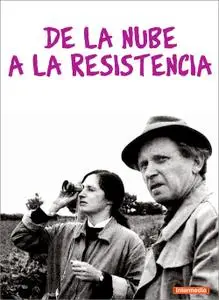 From the Clouds to the Resistance (1979)
DVDRip | AVI | 608x432 | XviD @ 1240 Kbps | 100 min | 994 Mb
Audio: Italiano AC3 2.0 @ 192 Kbps | Subs: English, Français, Português
Genre: Drama
Directors:
Danièle Huillet, Jean-Marie Straub
Writer:
Cesare Pavese (novels)
Stars:
Olimpia Carlisi, Guido Lombardi, Gino Felici
Two segments. The first one arranges six stories from Cesare Pavese's "Dialoghi con Leucò", taken from classical mythology. The second segment is taken from Pavese's novel "La luna e i falò": after WWII the emigrant 'The Bastard' comes back to his village in the Langhe (northern Italy) to find that everyone he knew has died and the war has deeply changed relationships between people.
For a considerable period of time now, I had been hearing the name Straub-Huillet in this forum, a name that was every bit as foreign to my ears as it could be. I had never heard the name(s) before, and even as I decided to start my Straub-Huillet journey yesterday, I was a bit apprehensive, already unsure if I was in shape to tackle the density of their art. Well, I stand stunned after Dalla Nube alla Resistenza, and this delightful petrification is different in nature, even if slightly so, than my normal reaction to masterpieces. No, there is NO question that this is one of the greatest films I have watched in my life, but most definitely this film was made for me, and for every person interested in mythology. But that's just half of it, as the second segment tells a very real story, far apart from the six mythological conversations that make up the first one. The first segment is quite focused or various mythic tales and could be a pain for the non-interested, but if you are familiar, it is an experience that you can never forget. An ode to the medium itself, shot via long takes of sublime beauty and excellent camera placement, it is also a fitting tribute to the power of words, devoid of all tonal variation, another factor that understandably has led reviewers to call it 'talky' but take my word, it's some great talk! The second segment is about a veteran – 'The Bastard' - how WWII had changed lives and relationships. This one, too is shot with great simplicity, and it's almost like we are watching real people, listening to real conversations, actually witnessing the lifelessness within life; the conversations themselves are very interesting if you follow them, but of more enjoyment is how magically, in one stroke, Straub/Huillet manage to tell a story that stretches from creation to demolition, even if it took me a while to get to it.

As this movie ended – I found myself concluding that this was not for everyone but for the mythology nerds – but as I mulled over it, working my head, the magic of the film struck me – how it lazily forms a full circle – from the withdrawal of Gods from Earth, to the first accounts of superstition and bloodshed and then, finally, to the futility of the modern man's violence; it is absolutely brilliant. But yes, the amount of dialogue that flows in the 100 minutes could really put you off; I had to go back a lot of times, because in the maze of the excellent philosophical lines, I did lose a thread or two. But going back was a pleasure, and this is a fabulous must-watch, in my opinion.
(click to enlarge)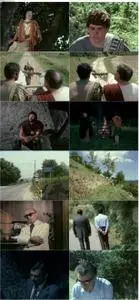 More in My Blog