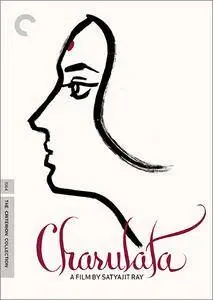 Director:
Satyajit Ray
Writers:
Rabindranath Tagore (from the story "Nastaneer"), Satyajit Ray (scenario)
Stars:
Soumitra Chatterjee, Madhabi Mukherjee, Shailen Mukherjee
Charu lives a lonely and idle life in 1870s India. Although her husband Bhupati devotes more time to his newspaper than to their marriage, he sees her loneliness and asks his brother-in-law,Umapada to keep her company. At the same time Bhupati's own brother, Amal, a would-be writer comes home finishing his college education. However, after several months, Charu and Amal's feelings for each other move beyond literary friendship.


Title: Charulata.64.Cr.D9
Size: 7.68 Gb ( 8 056 240,00 KBytes ) - DVD-9
Enabled regions: 1, 2, 3, 4, 5, 6, 7, 8

VTS_01 :
Play Length: 00:00:00
Video: NTSC 4:3 (720x480) VBR

VTS_02 :
Play Length: 00:16:49
Video: NTSC 16:9 (720x480) VBR, Auto Letterboxed
Audio:
Bengali (Dolby AC3, 1 ch)
Subtitles:
English
English

VTS_03 :
Play Length: 00:23:42
Video: NTSC 16:9 (720x480) VBR, Auto Letterboxed
Audio:
English (Dolby AC3, 1 ch)
Subtitles:
English

VTS_04 :
Play Length: 01:59:22
Video: NTSC 4:3 (720x480) VBR
Audio:
Bengali (Dolby AC3, 1 ch)
Subtitles:
English

VTS_05 :
Play Length: 00:00:20
Video: NTSC 4:3 (720x480) VBR

VTS_06 :
Play Length: 00:12:51
Video: NTSC 4:3 (720x480) VBR
Audio:
English (Dolby AC3, 1 ch)
Subtitles:
English

VTS_07 :
Play Length: 00:00:00
Video: NTSC 4:3 (720x480) VBR


Extras:
- New interview program with actors Madhabi Mukherjee and Soumitra Chatterjee
- Adapting Tagore, a new interview program featuring Indian film scholar Moinak Biswas and Bengali cultural historian Supriya Chaudhuri
- Archival audio interview with director Satyajit Ray, conducted by film historian Gideon Bachmann