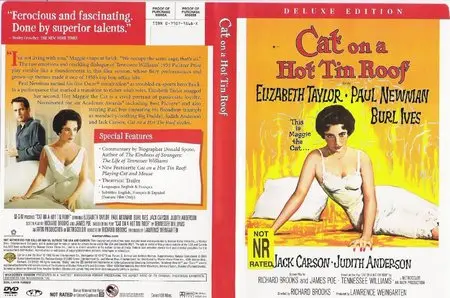 Cat on a Hot Tin Roof (1958)
DVD9 | ISO+MDS | NTSC 16:9 | Cover | 01:53:05 | 5,49 Gb
Audio: #1 English and #2 Français dub - AC3 1.0 @ 192 Kbps (each)
Subtitles: English, Français, Español
Genre: Drama | Deluxe Edition
Director:
Richard Brooks
Writers:
Richard Brooks (screenplay), James Poe (screenplay)
Stars:
Elizabeth Taylor, Paul Newman, Burl Ives
Brick (Newman) and Gooper (Carson) are sons of "Big Daddy" Pollit (Ives). Brick is the favored son, a former football star but now a drunk, who's married to "Maggie the Cat" (Taylor). Maggie caters to Big Daddy, and desperately loves her despondent husband. Gooper, the son that's actually made something of himself, has a chip on his shoulder. He and his wife Mae Flynn (Madeleine Sherwood) try to gain control of dying Big Daddy's estate. Big Daddy, married to Big Momma (Anderson), "ruled" all the members of his family with an iron fist while he built his empire and manipulated events in their lives.
A southern house divided between patriarchal dominance and hypocrisy, rendered effectively despite censorship and a screenplay that bogs midway. The performances are the thing in this film version of the Tennessee Williams stage triumph, led by Ives, repeating his stage role like a force of nature. Taylor and Newman make a handsomely unhappy husband and wife, with just enough sexual chemistry to justify the union. Mike Todd's plane crashed during filming, and the camera seems to capture Taylor's pent-up energy, but she isn't directed well enough to unleash it. This is fine throughout most of the film, but her catharsis is finally lacking and her little vengeances come off less like a satiated alley cat than a pampered prize kitty. The homosexual overtones are just about laundered out of Newman's role, but his pantherine eyes and profile suggest unplumbed depths between the lines. Jack Carson and Dame Judith Anderson are just right, and Madeleine Sherwood is absolutely definitive as Sister Woman.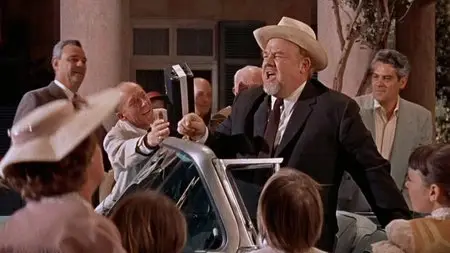 On March 23, 2011, the world took pause as Dame Elizabeth Rosemond Taylor passed away after years of health problems. A former child actor, adolescent star, dual Oscar winner, serial bride, AIDS activist and tabloid favourite, she left this world just 24 days after her 79th birthday, having spent the past months hospitalised for congestive heart failure. Although perhaps better known for her personal relationships (including a highly publicised friendship with Michael Jackson) and private romances (resulting in eight trips down the aisle with seven men), her on-screen legacy speaks volumes. With seventy works to her name – as a film, television and voice actress – Ms Taylor left a distinct imprint upon the entertainment industry, ranging from her first part in There's One Born Every Minute to her final role in animated TV series God, The Devil And Bob.




Making her big screen debut at age ten, it took Taylor a mere two years to win the hearts of the cinema-going public. After brief appearances in Lassie Come Home, Jane Eyre and The White Cliffs Of Dover (the latter two uncredited), she shot into the spotlight in National Velvet, stealing the show from her Oscar-winning co-star (Anne Revere, recipient of the 1946 award for best actress in a supporting role). Another animal film - Courage Of Lassie - followed, as did youthful efforts Julia Misbehaves, A Date With Judy, Cynthia and Life With Father. The 1949 incarnation of Little Women marked her last adolescent feature (alongside June Allyson, Margaret O'Brien and Janet Leigh as the other three March sisters), with anti-Communist drama Conspirator and comedy The Big Hangover offering a seamless transition into more mature parts.




Taylor's fame continued to climb in the 1950s, with Father Of The Bride providing her first taste of box office success as an adult. The sequel Father's Little Dividend followed shortly afterwards, again drawing viewers and showing Taylor's deft hand with humour. However, it was 1951′s A Place In The Sun that would prove telling in terms of her later work, with the actress adept at flexing her dramatic chops. Demonstrating the talent that resided behind her stunning looks, the role set her on a path that juxtaposed her fiery nature with her undeniable aesthetic appeal, resulting in a string of forgettable features (Love Is Better Than Ever, Ivanhoe, The Girl Who Had Everything, Rhapsody, Elephant Walk, Beau Brummell and The Last Time I Saw Paris), as well as a spate of career defining offerings (Giant, Raintree County, and of course, Cat On A Hot Tin Roof).




Despite the wealth of powerful parts that followed Taylor's turn in the screen adaptation of Tennessee Williams' Pulitizer Prize-winning play of the same name, Cat On A Hot Tin Roof still resounds as one of her finest performances in her seven decades in the industry. Garnering the star the second of four successive – and five total – Oscar nominations, her role as Maggie "the Cat" typified her combination of sultry passion and simmering restraint, as exemplified by her cold, hard stare and wily femininity. Whilst awards attention would follow for Suddenly, Last Summer, BUtterfield 8 and Who's Afraid Of Virginia Woolf (with wins for the latter two parts), Cat On A Hot Tin Roof remains the feature that seared her adult presence into popular consciousness. Neither the lavish histrionics of Cleopatra nor the Shakespearean importance of The Taming Of The Shrew could topple her sizzling portrayal that seethed with intellect and intensity.




Set in a plantation home in the Mississippi Delta amidst a backdrop of a stifling summer, Cat On A Hot Tin Roof delves into the personal relationships of the broader Pollitt clan. With the family gathered on the eve of the 65th birthday of patriarch Big Daddy (Burl Ives, reprising his role from the original Broadway production), tensions are heightened and feuds brought front and centre, with the recent ill health of the wealthy benefactor escalating the situation. Whilst eldest son Gooper (Jack Carson), his meddling spouse Mae (Madeleine Sherwood) and their five-strong brood are intent on securing father's fortunes, indifferent younger sibling Brick (Paul Newman, in his first Oscar-nominated performance) and his wife Maggie (Taylor) have their own problems to attend to. As an evening storm strikes, the conditions between the property's inhabitants become just as tempestuous.




With each family member bringing their own issues to the reunion of sorts, their proximity in such close quarters ensures every idiosyncrasy and neurosis raises its head. Big Daddy and Big Mama (Judith Anderson) are oblivious to the former's wellbeing woes, however their incessantly squabbling children do not go unnoticed. In the centre of proceedings sits childless Brick and Maggie, with the former football star turned sports announcer heavily dependent on the solace found at the bottom of the bottle, and his feisty wife desperate in her affections, distrustful in her actions and dismissive in her opinions. As their marriage teeters on the edge of an oblivion beckoned by a dark secret yet held at bay by social niceties, their rift with their "no neck" child-ridden counterparts heightens, as does the revelatory impact of the inter-family fracas upon Big Daddy's health and the relationships between everyone present.




Sharing the traits of many of Williams' works (including the similarly lauded A Streetcar Named Desire, which made the leap from stage to screen in 1951), Cat On A Hot Tin Roof provides an insight into the inner turmoil of personal connections tinged with southern sensibilities. It examines the downward spiral of upwardly mobile individuals that drink, dream, spy and scheme their lives away, as well as the interplay of desire, despondence, mendacity and mortality. With materialism, malice, greed and avarice constant, the film ponders pretense and hypocrisy, and the many futile filters through which reality is often perceived. However, above all the intense and absorbing feature unravels the effect of things left unsaid and unspoken as well as the importance of the truth, with characters wishing to speak it being ignored, and those needing to hear it unable – and unwilling – to listen.




As the ferocious focal point for director Richard Brooks' interpretation of the melodramatic yet measured theatrics, the poetic pairing of Newman and Taylor is simply electric (especially given that Elvis Presley and Ben Gazzara, and Lana Turner and Grace Kelly were originally mooted for the parts). Personifying the strength and frailty inherent in the explosive situation, the shared dynamic of the duo illustrates the romanticism of a fledgling marriage, as well as the disappointment of failed plans. Accordingly, the feature takes on the characteristics of a coming of age offering, with the wisdom sought and found heralding the maturity of adults in age but not in action. As the now iconic actors and the equally inimitable protagonists traverse the void from hopeful to disheartened and back again, they take the audience on the same journey – one that paints a poignant portrait of relationships in all their guises, as well as one that confirmed the key players involved as consummate performers, complex thespians, and uncharted stars.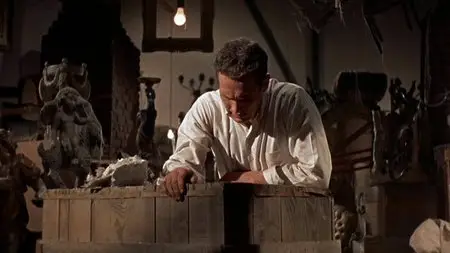 Special Features:
- Audio commentary by biographer Donald Spoto, author of "The Kindness of Strangers: The Life of Tennessee Williams"
- "Cat on a Hot Tin Roof: Playing Cat and Mouse" featurette (10:03)
- Theatrical trailer (2:19)
All Credits goes to Original uploader.
–––––––––––––––––––––––––––––––––––––––