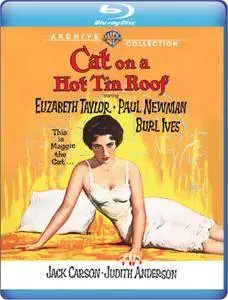 Cat on a Hot Tin Roof (1958)
BDRip 720p | MKV | 1280 x 720 | x264 @ 2560 Kbps | 1h 48mn | 2,22 Gb
Audio: English AC3 2.0 @ 192 Kbps + Commentary track | Subtitles: English
Genre: Drama, Romance | Director: Richard Brooks
Brick, an alcoholic ex-football player, drinks away his days away and resists the affections of his increasingly desperate wife, Maggie. A confrontation with his father, plantation owner Big Daddy, who is dying of cancer, jogs a host of memories and revelations for both father and son.
IMDB
- Nominated for 6 Oscars
"Cat on a Hot Tin Roof" is truly an actor's movie, and it is one of those rare films where every single actor is perfect.

Paul Newman and Elizabeth Taylor are both brilliant as Brick and Maggie Pollitt, respectively. Not very often is there a screen couple that have the same chemistry together that they do.

Newman, however, steals the show. If you watch "Cat on a Hot Tin Roof" for nothing else, watch it for his performance. One of the greatest actors of all time, Newman showcases how powerful an actor he can be. This is not to say the supporting cast isn't excellent. Burl Ives is superb in a supporting role as Big Daddy, a man who's greatest concern is having his legacy live on after him. The sequence with Ives and Newman in the basement of the house remains one of the most incredible displays of acting I have ever seen.

"Cat on a Hot Tin Roof" is a very appropriate title. It is a searing, wonderfully acted film that I will not soon forget. I recommend those who haven't seen it yet to rent it as soon as they get a chance. A true classic.
(Enlargeable)

Audio Commentary
by Donald Spoto: Spoto has written biographies of both Tennessee Williams and Elizabeth Taylor, and he's knowledgeable about both the play and its translation to the screen. While an admirer of the film, he is candid about its dramatic shortcomings.