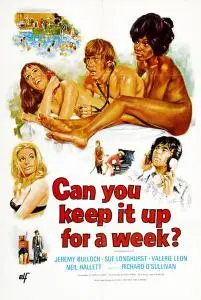 Can You Keep It Up for a Week? (1975)
English | DVDRip | AVI | 640x480 | XviD @ 1501 kb/s | 1.08 GB
Audio: MP3 @ 128 kb/s | 2 channels | 01:34:00 minutes
Genre: Comedy
The male protagonist here (Jeremy Bulloch) has a gorgeous, generously breasted fiancée (played by the gorgeous, generously breasted Jill Damas from "Sex Play") who refuses to marry him unless he proves he can "keep it up for a week", that is keep a job for a week (get your minds out of the gutter, people). This doesn't seem like all that difficult a task for someone to be considered marriage material, but ironically it results in him cheating on her about a dozen times.
This is one of those goofy 70's British sex comedies in the mode of the popular "Confessions of" or "Adventures of" series where servile, demeaning employment somehow leads a young man to get more scrumptious tail than any young man could possibly handle (which makes you wonder why the real-life workers in Britain were always angry and on strike in the 1970's).