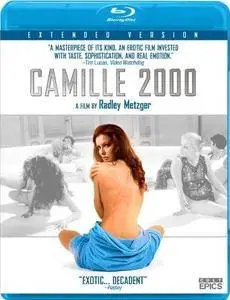 Camille 2000 (1969) + Extras
BDRip 720p | MKV | 1280 x 720 | x264 @ 2560 Kbps | 2h 10mn | 2,77 Gb
Audio: English AC3 2.0 @ 192 Kbps + Director's Commentary track | Subs: None
Genre: Drama, Romance | Director: Radley Metzger
A child of the sixties sexual revolution, beautiful, sensuous Marguerite (Daniel Gaubert) is addicted to sex and money. She is kept by a wealthy man, has a string of young lovers and hosts wild orgies in her luxurious villa. When she falls in love with the handsome bachelor Armand (Nino Castelnuova), he insists on absolute fidelity. Known by her reputation, Armand's controlling father soon intervenes, triggering a tragic turn of events. From Radley Metzger, the essential director of elegant erotic arthouse, comes the dazziling new 2000 version of Alexandre Dumas 'The Lady of the Camellias'.
(Enlargeable)

Audio commentary
by Director Radley Metzger, moderated by Michael Bowen
Extras included:
- Sylviana's bare striptease - complete version (2:47)
- Cube love scene - alternate take (1:57)