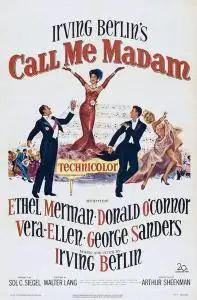 Call Me Madam (1953)
English | DVDRip | AVI | 640x480 | XviD @ 1499 kb/s | 1.31 GB
Audio: MP3 @ 128 kb/s | 2 channels | 01:54:36 minutes
Genre: Comedy, Musical, Romance
Boisterous, fun-loving, and popular Washington D.C. hostess Sally Adams is appointed U.S. Ambassador to the Grand Duchy of Lichtenburg, Europe's smallest country. In Lichtenburg, the Duke and Duchess are negotiating a political marriage for their niece, Princess Maria in exchange for a substantial dowry. However, the country is desperate for funds, and turns to the inexperienced ambassador for a much needed U.S. loan. Sally refuses to talk money, that is, until she meets the ultra charming Gen. Cosmo Constantine. Meanwhile, Sally's press attaché Kenneth Gibson falls head over heels for Princess Maria.