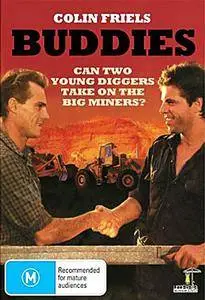 Buddies (1983)
DVDRip | MKV | 716x458 | x264 @ 1790 Kbps | English AC3 2.0 @ 192 Kbps | 95 min | 1,35 Gb
Genre: Comedy, Drama
Director:
Arch Nicholson
Writer:
John Dingwall
Stars:
Colin Friels, Harold Hopkins, Kris McQuade
Young miners Mike and Johnny (Colin Friels and Harold Hopkins) work in the gem fields of central Queensland around Emerald. Conflict arises when their pick-and-shovel operation is threatened by a large scale bulldozer operator.
This film has been a favorite of mine for over 20 years. I have been to the area this film was made in many times and fossicked for sapphire's, getting a few nice gems. I have tried relentlessly to get a copy of this on DVD or VHS. The national archives for Australian Film in Canberra have told me that the original owner of the rights to this film had not originally released it for sale on these formats. This person has since passed on , and now his family who retain the rights have declined to allow reproduction of this truly Aussie Icon Film. I believe that their doing this is a complete insult to us all, by denying us the opportunity to see this film again. Something should be done about this, as it is a must see film, not to mention the good it could have done for our tourism industry.
(click to enlarge)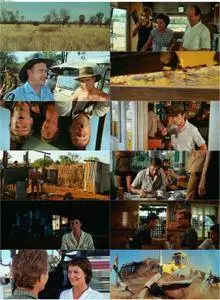 More in My Blog