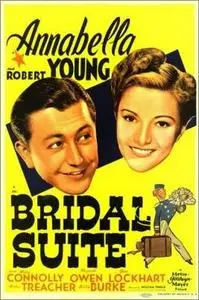 Bridal Suite (1939)
English | TVRip | MKV | 706x472 | AVC @ 1739 kb/s | 1014 MB
Audio: AC-3 @ 256 kb/s | 2 channels | 01:09:37 minutes
Genre: Comedy, Music, Romance
Affording a happy variation from the more serious problems of life, "Bridal Suite" gleefully wends its way to the screen… in the story Robert Young is rushed off to Switzerland by his fluttery mother Billie Burke to be cured of forgetfulness so that he may in future remember such trifles as his wedding date. But while being treated for his head by Walter Connolly, he loses his heart to Annabella, manageress of the Swiss Inn. The result is a series of daffy complications whirling from breath-taking adventures in the Alpine heights to free-for-all fights aboard a trans-Atlantic liner with true love winning in the end.