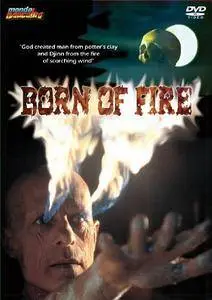 Born of Fire (1987)
DVDRip | MKV | 708x480 | x264 @ 2008 Kbps | English AC3 2.0 @ 192 Kbps | 83 min | 1,29 Gb
Genre: Fantasy, Horror
Director:
Jamil Dehlavi
Writers:
Rafiq Abdullah (screenplay) (as Raficq Abdulla), Jamil Dehlavi (story)
Stars:
Peter Firth, Suzan Crowley, Stefan Kalipha
A solar eclipse and a volcanic activity in Turkey cause British flutist Paul (Peter Firth, EQUUS) to experience strange visions and hears mysterious flute music during a concert in London. Before his ailing mother's death, she mentions something about the Master Musician who had taught his long dead musician father breathing exercises in Turkey. Together with an attractive astronomer (Suzan Crowley, THE DRAUGHTSMAN'S CONTRACT) who has also been having hallucinations and believes there is a connection with recent increasing solar activity, Paul goes to Turkey in search of the Master Musician (Oh-Tee, who has already been making creepy encounters throughout the London scenes) and is told by mysterious Bilal (Stefan Kalipha) that his flute will lead him.
The film is stunningly photographed with beautiful Turkish location photography (it may be one of the most beautiful British horror films of the eighties) and effectively scored by underrated genre Colin Towns (FULL CIRCLE) with accompaniment by Kudsi Ergüner. The downside of the film is how talky it is for a film just over eighty minutes. Each and every strange hallucination or vision is then talked about and sometimes explained; Arabic mythology is very interesting but do we really need to know what a djinn is to make the appearances of mysterious black clad woman any more effective? (though director Dehlavi admits in the interview that the dialogue in BORN OF FIRE is the least interesting in his films). As such, Firth and Crowley are good with what they have to work with but their romantic relationship seems under-motivated. The film is most effective when it depicts visually Paul's journey and the astronomer's increasingly strange behavior (seasoned genre viewers will stop wondering rather quickly why her character is never named). Regardless, the film is highly recommended for horror film fans with eclectic tastes and a liking for mesmerizing, trippy visuals.
(click to enlarge)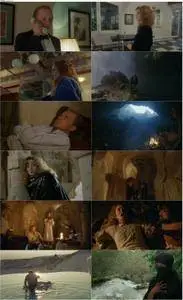 More in My Blog