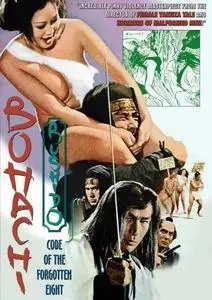 Boachi Bushido: Code of the Forgotten Eight (1973)
DVDRip | MKV | 702x438 | x264 @ 1950 Kbps | 81 min | 1,30 Gb
Audio: Japanese (日本語) AC3 2.0 @ 192 Kbps | Subs: English, Русский, Français
+ Japanese (日本語) Commentary track with optional English subs
Genre: Action, Thriller, Pinku
Director:
Teruo Ishii
Writers:
San Kaji (screenplay), Kazuo Koike (comic)
Stars:
Tetsurô Tanba, Gorô Ibuki, Tatsuo Endô
In PORNO PERIOD DRAMA, Tetsuro Tanba plays a nihilistic ronin who faces down the "Clan of the Forgotten Eight", who got their name because they lost all their basic emotions like conscience, gratitude, loyalty, shame etc. With his sword Onibouchou (literally: Ogre's Kitchen Knife!) Tanba's character hacks into their ranks in ways that has limbs and severed heads fly everywhere and the blood flows in rivers! On his way, he only stops to take every woman he meets, forcefully if need be!
It's been a while since I first laid eyes on this film, I now feel it's my duty to share my feelings and views on what happened here. Firstly, if the opening scene does not grab you and slam you into your seat, then you don't really enjoy Grindhouse Chanbara! From the vivid colors to the stylish camera angles, to the Badassery of the lead character Shino, Bohachi - Clan of the forgotten 8 is a masterpiece of sleaze that no male should miss! Nudging elbows with the Baby Cart series, Bohachi adds tons more skin to get your blood pumping even more. Many scenes are reminiscent of a comic, same style as Baby Cart. Violent, while not going over the top reaching gorebore. There is plenty red stuff spraying to keep your utmost attention. It screams style, cult and just looks so damn beautiful doing it. Shino could be related to Ogami Itto, or even Charles Bronson in fact! This film may be wildly off the wall, but it takes it's self dead serious, I believe. All you men, next time girls night out comes around, treat yourself to this beast!
(click to enlarge)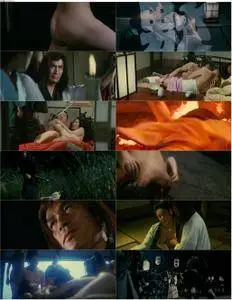 More in My Blog