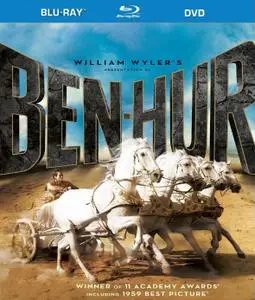 Ben-Hur (1959) + Extras
BRRip 720p | MKV | 1280 x 720 | x264 @ 2025 Kbps | 3h 42mn | 4,14 Gb + 541 Mb
Audio: English AC3 5.1 @ 448 Kbps + Commentary track | Subtitles: English
Genre: Action, Adventure, Drama | Director: William Wyler
Epic drama about an aristocratic Jew living in Judaea who incurs the wrath of a childhood friend, now a Roman tribune. Although forced into slavery on a galley and compelled to witness the cruel persecution of his family, he survives, harbouring dreams of vengeance. A battle at sea and a chariot race are among the memorable sequences. The film used 300 sets at Rome's Cinecitta Studios and won a record 11 Oscars.
IMDB
- Top Rated Movies #213 | Won 11 Oscars + Another 29 wins
(Enlargeable)

Audio Commentary
by Film Historian T. Gene Hatcher with Charlton Heston. Hatcher is a very genial host and has some good information to impart, but more than once he opts for less than insightful comments like, "Every time you see someone wearing red in this film, you know you're looking at the bad guys." Heston's comments, recorded separately and well edited into the commentary, provide a good deal more interest overall, as sporadic as they are.
Extras:
–
Ben-Hur: The Making of an Epic
(58:15) is a fairly standard making of piece, which includes a lot of background information, including on General Lew Wallace and the book, and which features interviews with a slew of people like the always reliable and informative Rudy Behlmer.
–
Screen Tests
(8min).